Security
This site has a SSL secure payment system which guarantees the confidentiality of your banking details while ordering.

>

Home

>

Madiran

>

Laffitte Teston

>

Éricka 2016 Pacherenc sec Laffitte Teston
Éricka 2016 Pacherenc sec Laffitte Teston
White wine sec, 75 cl, Madiran,
AOC Pacherenc du Vic-Bilh
Pacherenc du Vic-Bilh Sec
Complexité et finesse pour ce grand blanc aux vertus gastronomiques.
Notes de dégustation : Riche, consistante, complexe, très belle expression des arômes longue persistance en finale qui donne envie d'y revenir.
Caractéristiques du vignoble
Sol
: Argilo-calcaire.
Densité
: 5 200 Pieds/ha.
Vendange
: manuelle
Caractéristiques du vin
Vendangé volontairement un peu tardivement pour du sec pour aller chercher les arômes des raisins bien mûrs, suivi d'un tri très sévère afin de ne garder que les grappes saines et très belles. Égrappage total avant macération de 12 heures puis pressurage très lent pour respecter la qualité des raisins. Fermentation et élevage 80 % en barriques neuves avec bâtonnage 2 fois par semaine et ce, jusqu'à la mise en bouteilles. (8 à 9 mois d'élevage).
Cépages
: 20% Gros Manseng, 70% Petit Manseng, 10 % Petit Courbu
Accords culinaires
: Servir Frais (8°-10°) sur fruits de mer, poissons cuisinés, viandes blanches, sauces blanches. Accompagnera également les fromages discrets.
A consommer plutôt entre 1 et 5 ans, mais peut vieillir davantage.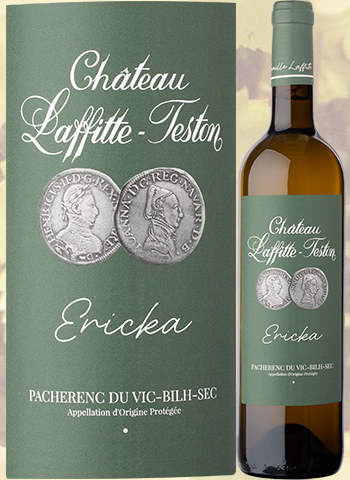 Prices including VAT, excluding delivery and customs duties.
Duties and transport are calculated on the order form.
Prices vary with the delivery country. Prices for delivery in
Thanks you for your visit !
The french wines
Siret : 401 551 858
31800 Villeneuve de Rivière - France
Contact @ : Les vins français


"Les vins français" are placing a supplementary range of wines at the exclusive disposition of retailers and professionals.

Customer Service
Phone : + 33(0) 562 003 235
Mobile : + 33(0) 684 382 629