Security
This site has a SSL secure payment system which guarantees the confidentiality of your banking details while ordering.

>

Home

>

Lorgeril

>

L'esprit de Pennautier Magnum 2015 Cabardès Lorgeril
L'esprit de Pennautier Magnum 2015 Cabardès Lorgeril
Red wine, 150 cl, Languedoc-Roussillon,
AOP Cabardès
Guide Hachette 2019 : ★★
Guide Parker : 90
Guide Bettane & Desseauve : 15,5/20
Médaille d'Argent : Decanter 2016
Magnum 150 cl
Grand Vin
Caisse bois de 6 magnums
Notes de dégustation : Nez puissant, complexe, fruits noirs, truffe, coriandre, pointe poivrée. Bouche ample, massive, tanins très fins, belle harmonie avec le bois. L'Esprit se dévoilera et atteindra sa plénitude dans une dizaine d'années. Dans sa jeunesse (3 à 5 ans) il est préférable de le servir en carafe pour qu'il vous invite à découvrir tout son potentiel.
Le vignoble
Le vignoble grimpe sur les flancs des coteaux ensoleillés et rocailleux du sud de la Montagne Noire, de 300 à 350 m d'altitude. Ce vin est issu des parcelles les plus hautes du domaine et des plus belles sélections parcellaires sur des sols calcaires très caillouteux.
Caractéristiques du vin
Cépages
: 50% Merlot, 10% Cabernet Sauvignon, 40% Syrah.
Vinification
: Vendange égrappée. Fermentation et macération longue (35 jours). Fermentation malolactique en barriques neuves.
Élevage 18 mois avec soutirage tous les 3 mois. Le vin n'est ni collé, ni filtré avant la mise en bouteille.
Garde
: 5 à 10 ans
Accords culinaires
: Gibier en civets, fromages relevés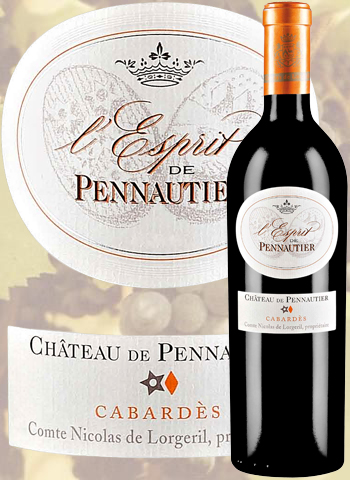 Autres millésimes et formats disponibles :
Red wine, 75 cl, Languedoc-Roussillon, AOP Cabardès
Prices including VAT, excluding delivery and customs duties.
Duties and transport are calculated on the order form.
Prices vary with the delivery country. Prices for delivery in
Thanks you for your visit !
The french wines
Siret : 401 551 858
31800 Villeneuve de Rivière - France
Contact @ : Les vins français


"Les vins français" are placing a supplementary range of wines at the exclusive disposition of retailers and professionals.

Customer Service
Phone : + 33(0) 562 003 235
Mobile : + 33(0) 684 382 629