Security
This site has a SSL secure payment system which guarantees the confidentiality of your banking details while ordering.

>

Home

>

Bouzy Rouge Grand Cru 2008 Georges Vesselle
Bouzy Rouge Grand Cru 2008 Georges Vesselle
Champagne, 75 cl, Georges Vesselle, Bouzy Grand Cru
Vin Rouge Grand Cru Millésimé
Notes de dégustation : Un millésime d'une belle année et d'une longue conservation. Très aromatique et d'une bonne persistance en bouche, il développe des arômes de fruits rouges (cassis, framboise) et des notes de sous-bois.
Les Bouzy Rouge Georges Vesselle sont strictement élaborés à partir des vignes de Pinot Noir les plus âgées et les années de grande qualité uniquement. L'élevage des vins en barrique ou en foudre de chêne leur donne un supplément d'âme et consolide le caractère exceptionnel du terroir de Bouzy Grand Cru. C'est une production confidentielle limitée par la sélection des raisins suivant la qualité de la vendange.
Caractéristiques du Vin
Vinification
: Les vins sont conservés en "foudre" (de 20 à 35 hl), puis en "demi-muid" (6,15 hl), et pour finir en "pièce"(2,05 hl). L'assemblage d'une seule année renforce la puissance des arômes de ce vin tout en préservant son équilibre et sa rondeur.
Cépage
: 100 % Pinot Noir de Bouzy
Age des vignes
: 45 ans
Accords culinaires
: Un coteau champenois de belle maturité à associer avec une viande blanche, de l'agneau ou du poisson grillé.
servir
: Doit être servi à 14°C. Nous vous conseillons d'ouvrir la bouteille 45 min avant la dégustation.
Garde
: Ce millésime 2008 allie finesse et élégance. A découvrir aujourd'hui.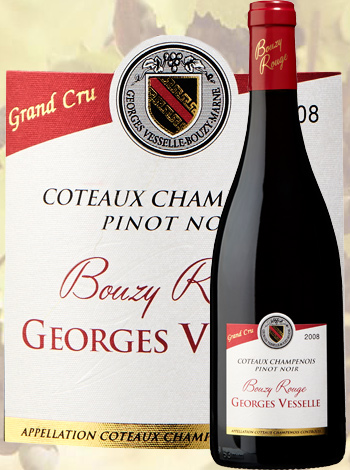 Autres millésimes ou formats :
Champagne, 75 cl, Georges Vesselle, Bouzy Grand Cru
Prices including VAT, excluding delivery and customs duties.
Duties and transport are calculated on the order form.
Prices vary with the delivery country. Prices for delivery in
Thanks you for your visit !
The french wines
Siret : 401 551 858
31800 Villeneuve de Rivière - France
Contact @ : Les vins français


"Les vins français" are placing a supplementary range of wines at the exclusive disposition of retailers and professionals.

Customer Service
Phone : + 33(0) 562 003 235
Mobile : + 33(0) 684 382 629