Security
This site has a SSL secure payment system which guarantees the confidentiality of your banking details while ordering.

>

Home

>

Buzet

>

Baron d'Ardeuil

>

Château de Gueyze 2012 Magnum Buzet
Château de Gueyze 2012 Magnum Buzet
Red wine, 150 cl, Buzet, AOC Buzet
Magnum 150 cl
Caisse Bois
"Gueyze" c'est comme "Baïse". C'est du celte gasconisé qui signifie, approximativement, "petit cours d'eau". Du reste, à l'orée de la lande toute proche, un minuscule ru gavé de truites et d'écrevisses, s'appelle "la Gueyze". Autrement dit l'eau ! Comment un endroit qui porte un nom aqueux a-t-il pu devenir le terroir emblématique des vins de Buzet ? C'est un des plus beaux mystères de ce sol des merveilles. Il n'empêche qu'ici s'élève et s'élabore le meilleur vin de Gascogne. Inutile d'énumérer les qualités de ce vin, il les a toutes plus une, il peut vieillir le temps qu'on voudra ou presque.
Cépages : 35% merlot, 30% Cabernet Franc, 35% Cabernet Sauvignon.
Accords culinaires : Jambon de Bayonne, Pizza, Aligot, Hachis parmentier, Faisan au cidre, Bécasse à la ficelle, Magret grillé et sa poêlée de cèpes, Côte de bœuf, Dinde de noël, Tournedos Rossini, Rôti de veau sauce forestière, Cassoulet.
( Actuellement indisponible )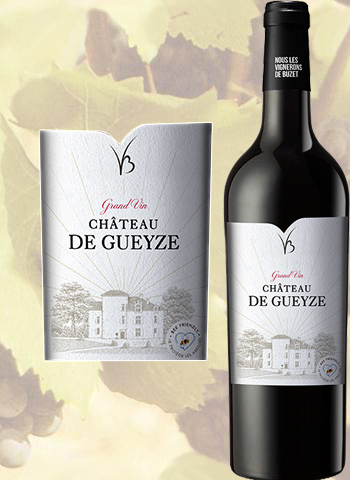 Autres millésimes ou formats :
Red wine, 75 cl, Buzet, AOC Buzet
Prices including VAT, excluding delivery and customs duties.
Duties and transport are calculated on the order form.
Prices vary with the delivery country. Prices for delivery in
Thanks you for your visit !
The french wines
Siret : 401 551 858
31800 Villeneuve de Rivière - France
Contact @ : Les vins français


"Les vins français" are placing a supplementary range of wines at the exclusive disposition of retailers and professionals.

Customer Service
Phone : + 33(0) 562 003 235
Mobile : + 33(0) 684 382 629