Security
This site has a SSL secure payment system which guarantees the confidentiality of your banking details while ordering.

>

Home

>

1er Cru Boudriotte 2016 Chassagne-Montrachet Lamy-Pillot
1er Cru Boudriotte 2016 Chassagne-Montrachet Lamy-Pillot
Red wine, 75 cl, Bourgogne, Côte De Beaune, AOC Chassagne-Montrachet
Notes de dégustation : Sur des arômes de griottes et de cerises noires, le secteur des Boudriotte est souvent sur la rondeur, avec du fond. Souvent ample en bouche, il offre un peu de dureté les premières années, mais sans être agressif.
Le vignoble
Nature du sol
: Marnes Argileuses Légères.
Année de plantation de la vigne
: 1974 et 1983
Synthèse du millésime
En 2016, les conditions climatiques ont été contrastées. Les vendanges auront été tardives pour récolter des raisins à parfaite maturité. Ce vin présente des arômes fruités très gourmands. C'est un vin particulièrement friand. Le millésime promet d'être d'une grande typicité.
Caractéristiques du vin
Cépage
: Pinot Noir
Élevage
: 12 mois en fûts de chêne, 25% neufs, 20% de un vin, et 55% de deux à cinq vins.
Accords culinaires
: Andouillette, une viande rouge grillée ou rôtie, une volaille.
Potentiel de garde
: A boire de 3 à 12-15 ans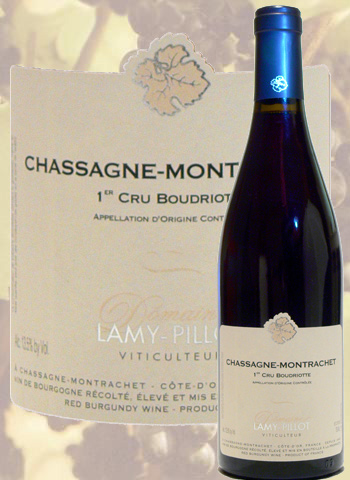 Prices including VAT, excluding delivery and customs duties.
Duties and transport are calculated on the order form.
Prices vary with the delivery country. Prices for delivery in
Thanks you for your visit !
The french wines
Siret : 401 551 858
31800 Villeneuve de Rivière - France
Contact @ : Les vins français


"Les vins français" are placing a supplementary range of wines at the exclusive disposition of retailers and professionals.

Customer Service
Phone : + 33(0) 562 003 235
Mobile : + 33(0) 684 382 629