Security
This site has a SSL secure payment system which guarantees the confidentiality of your banking details while ordering.

Les Carmes de Rieussec 2018 Second Vin de Sauternes
Sweet white wine, 75 cl, Bordeaux,
Second Vin
,
Sauternes
Second vin du Château Rieussec 1er cru de Sauternes
Notes de dégustation : Belle robe dorée avec de l'éclat. Le nez surprend déjà par sa délicatesse. L'élevage en barriques toujours présent mais se fond parfaitement aux notes d'abricot et de melon confit. L'attaque est légère puis le vin prend une bonne amplitude pour remplir progressivement toute la bouche. Le vin n'est pas marqué par la chaleur souvent excessive du millésime. La finale est longue et précise. C'est un vin qui est déjà parfaitement ouvert et qui atteindra son apogée d'ici 5 ans environ.
Caractéristiques du Vignoble
Le vignoble est situé à Fargues sur une croupe de graves voisine d'Yquem. Les Domaines Rothschild (Lafite) ont particulièrement réussi sa mise en valeur.
Le second vin de Château Rieussec est sélectionné à partir des mêmes bases que le grand vin. Sa caractéristique permanente est une belle amplitude aromatique avec une palette d'agrumes dominante. Le nom Carmes de Rieussec fait référence aux moines des Carmes de Langon, propriétaires du domaine de Rieussec au XVIII° siècle.
Synthèse du millésime
2018 est un millésime solaire et précoce qui restera dans les mémoires par la virulence du mildiou et certainement par l'opulence de ses vins. Il est parmi les plus structurés des millésimes bordelais, c'est un millésime miraculé...Il est un grand de chez les grands !
Caractéristiques du vin
Cépages
: 89% Sémillon, 5% Sauvignon blanc, 6% Muscadelle.
Accords culinaires
: Flan aux asperges, poularde en cocotte, poulet aux girolles, tarte au potiron.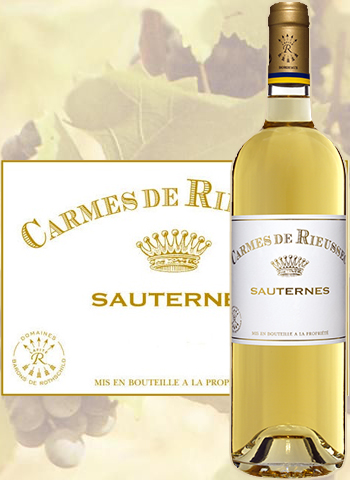 Autres millésimes et formats disponibles

Informations anciens millésimes
Prices including VAT, excluding delivery and customs duties.
Duties and transport are calculated on the order form.
Prices vary with the delivery country. Prices for delivery in
---
Les vins français
VAT Intra-Com. : FR 69 892 097 767
"Le Vignet" - 338 Chemin Biroc
31800 Villeneuve de Rivière - France


"Les vins français" are placing a supplementary range of wines at the exclusive disposition of retailers and professionals.

Customer Service
Phone : +33 (0)562 003 235
Mobile : +33 (0)684 382 629
@ : Les vins français
---