Security
This site has a SSL secure payment system which guarantees the confidentiality of your banking details while ordering.

>

Home

>

Alsace

>

Dopff

>

Sylvaner Dopff au Moulin 2017
Sylvaner Dopff au Moulin 2017
White wine, 75 cl, Alsace, AOC Alsace, Sylvaner
Notes de dégustation : Remarquablement frais et léger, avec un fruité discret.
Caractéristiques du vin
Tous nos vins ont été vinifiés, élaborés et élevés dans nos chais à partir de raisins fournis par plus de 400 viticulteurs sélectionnés pour le sérieux de leurs apports. La diversité des terroirs provenant de ces livraisons, fondue dans des assemblages harmonieux opérés dès le pressoir, nous permet d'assurer une qualité équilibrée et constante, malgré des conditions climatiques extrêmement différenciées d'une année à l'autre. Il est bon de rappeler que nos vins doivent être bus frais pour apprécier le bouquet, la saveur et toute la finesse du cépage dont ils sont issus. Température devant se situer entre 8° et 10°.
Accords culinaires
: avec de la charcuterie, des crudités et des fruits de mer ou avec tous les mets demandant un vin blanc sec.
Garde
: à boire jeune dans les 2 à 3 ans.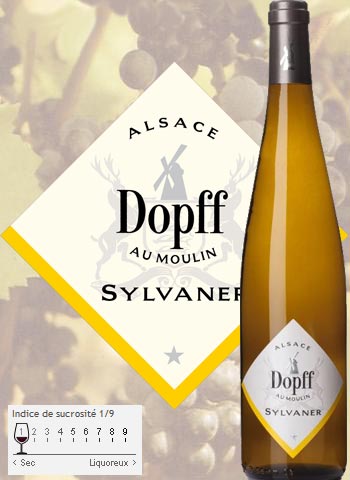 Prices including VAT, excluding delivery and customs duties.
Duties and transport are calculated on the order form.
Prices vary with the delivery country. Prices for delivery in
Thanks you for your visit !
The french wines
Siret : 401 551 858
31800 Villeneuve de Rivière - France
Contact @ : Les vins français


"Les vins français" are placing a supplementary range of wines at the exclusive disposition of retailers and professionals.

Customer Service
Phone : + 33(0) 684 382 629
Fax : + 33 562 003 236