Security
This site has a SSL secure payment system which guarantees the confidentiality of your banking details while ordering.

>

Home

>

Alsace

>

Dopff

>

Gewurztraminer Vendanges Tardives Dopff au Moulin 2015
Gewurztraminer Vendanges Tardives Dopff au Moulin 2015
White wine, 75 cl, Alsace, Vendanges Tardives, Gewurztraminer
Gewurztraminer Vendanges Tardives
Notes de dégustation : Ce vin à la robe profonde et concentrée, au bouquet incomparable de fruits exotiques, est un produit d'exception. Puissant et séducteur, moelleux, d'une texture dense et grasse, cette merveille d'une longévité au-dessus du commun est à déguster majestueusement lors d'une grande occasion.
Caractéristiques du vignoble
Ce vin de Vendanges Tardives provient du terroir lieu-dit "Gehey" d'exposition Sud-Est, le Gehey est en pente douce. La vigne prospère sur des terres argilo-sablonneuses, le sol superficiel est constitué de sable gréseux. La récolte des Vendanges Tardives correspond au 2ème passage (après le 1er tri des Sélections De Grains Nobles) où sont ramassés les raisins passerillés, rôtis et à l'état de sur-maturation, sans attaque de pourriture noble.
Caractéristiques du vin
Vendange manuelle le 25 octobre 2015 à 17.1 % Vol. d'alcool potentiel avec un état de passerillage.
Pressurage en raisins entiers sans égrappage. Débourbage statique, mise en fermentation à température contrôlée. Conservation sur lies pendant 6 mois.
2015 a été un millésime chaud donnant des vins riches et amples.
Cépage
 : Gewurztraminer
Degré alcool
: 12.4 % Vol.
Sucres résiduels
: 79 g/l
Acidité totale
: 3.5 g/l en H2SO4
Accords culinaires
: Vin de réception par excellence, à la fois à l'apéritif et au dessert. Parfait avec un foie gras, les fromages corsés ainsi que la cuisine exotique.
Garde
: Vin de garde - apogée vers 2020-2022.
Température de service
: 8-10°C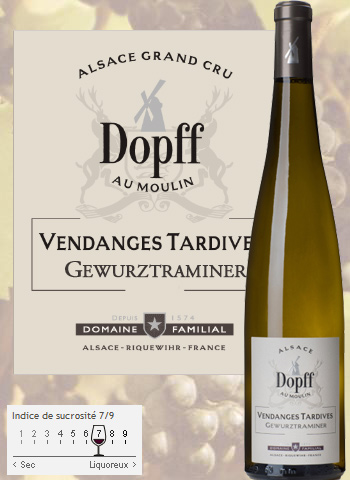 Prices including VAT, excluding delivery and customs duties.
Duties and transport are calculated on the order form.
Prices vary with the delivery country. Prices for delivery in
Thanks you for your visit !
The french wines
Siret : 401 551 858
31800 Villeneuve de Rivière - France
Contact @ : Les vins français


"Les vins français" are placing a supplementary range of wines at the exclusive disposition of retailers and professionals.

Customer Service
Phone : + 33(0) 562 003 235
Mobile : + 33(0) 684 382 629