Security
This site has a SSL secure payment system which guarantees the confidentiality of your banking details while ordering.

>

Home

>

Chéreau Carré

>

Le Clos l'Oiseliniere 2014 Muscadet Chéreau carré
Le Clos l'Oiseliniere 2014 Muscadet Chéreau carré
White wine, 75 cl, Val de Loire,
AOC Muscadet Sèvre-Et-Maine
Cru Communal (La Haie-Fouassiére)
Notes de dégustation : C'est un vin frais et perlant, avec des arômes floraux et fruités quand il est jeune (abricot, aubépine). En bouche, il est frais et agréable, avec une très belle longueur. Il atteint sa plénitude après quelques mois de bouteilles, et peut se garder quelques années.
Caractéristiques du vignoble
Le Domaine jouit d'une situation exceptionnelle au confluent des rivières Sèvre et Maine qui donnent le nom à l'appellation : Muscadet de sèvre et Maine. La particularité de ce domaine réside aussi dans le fait qu'il s'agit d'un vignoble clos entouré par la rivière et un bois. L'écosystème y est préservé par une agriculture raisonnée. Les Melon de Bourgogne âgés de 30 à 80 ans sont plantés sur un terroir d'Orthogneiss favorable à la production de Muscadet de grande garde.
Caractéristiques du vin
Cépage
: Melon de Bourgogne (Muscadet).
Accords culinaires
: Il est très apprécié à l'apéritif (et en cocktails), avec des fruits de mer, avec des fruits rouges.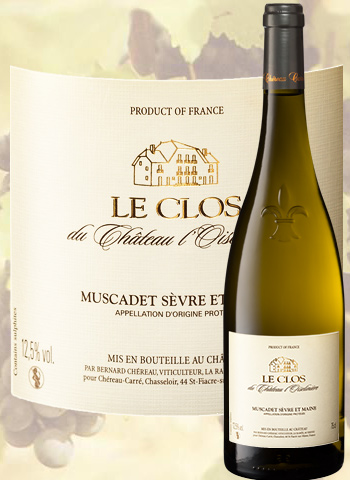 Prices including VAT, excluding delivery and customs duties.
Duties and transport are calculated on the order form.
Prices vary with the delivery country. Prices for delivery in
Thanks you for your visit !
The french wines
Siret : 401 551 858
31800 Villeneuve de Rivière - France
Contact @ : Les vins français


"Les vins français" are placing a supplementary range of wines at the exclusive disposition of retailers and professionals.

Customer Service
Phone : + 33(0) 562 003 235
Mobile : + 33(0) 684 382 629