Security
This site has a SSL secure payment system which guarantees the confidentiality of your banking details while ordering.

>

Home

>

Madiran

>

Laffitte Teston

>

Rêve d'Automne 50 cl 2016 Pacherenc moelleux Laffitte Teston
Rêve d'Automne 50 cl 2016 Pacherenc moelleux Laffitte Teston
Vin blanc moelleux, 50 cl, Madiran, AOC Pacherenc du Vic-Bilh
Pacherenc du Vic-Bilh Moelleux
Élu Vin Ambassadeur (sélectionné et désigné par l'interprofession à représenter l'appellation).
Notes de dégustation : Robe Brillante, jaune paille, très séduisante. Enveloppé, charnu, gras, pêche, raisin de Corinthe, fruits secs en général charmeur, très bon équilibre acide-sucré-alcool. Une merveille !
Vendanges tardives par tris successifs entre 2 et 3 suivants les années afin d'obtenir le maximum de concentration par évaporation (raisins presque confits). Très faible rendement. Égrappage et pressurage lent afin de conserver le potentiel des grains de raisin. Fermentation et élevage en barriques neuves avec bâtonnage 2 fois par semaines jusqu'à la mise en bouteilles.
Cépages
: 100% Petit Manseng
Accords culinaires
: Sera servi entre 7° et 9° traditionnellement avec le foie gras. Il accompagnera, certains fromages puissants ou bleu (Munster, Roquefort). C'est un vin qui fait saliver et qui sera donc un très bon apéritif.
Merveilleuse aptitude au vieillissement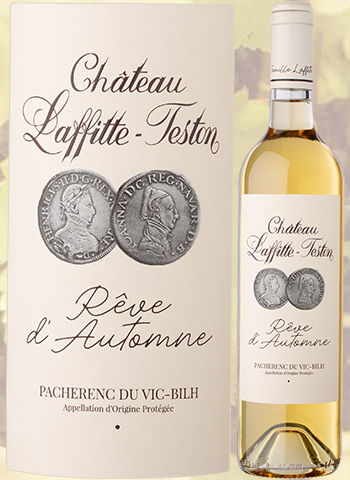 Prices including VAT, excluding delivery and customs duties.
Duties and transport are calculated on the order form.
Prices vary with the delivery country. Prices for delivery in
Thanks you for your visit !
The french wines
Siret : 401 551 858
31800 Villeneuve de Rivière - France
Contact @ : Les vins français


"Les vins français" are placing a supplementary range of wines at the exclusive disposition of retailers and professionals.

Customer Service
Phone : + 33(0) 684 382 629
Fax : + 33 562 003 236