Security
This site has a SSL secure payment system which guarantees the confidentiality of your banking details while ordering.

>

Home

>

Madiran

>

Laffitte Teston

>

Madiran Reflet du Terroir 2015 Laffitte Teston
Madiran Reflet du Terroir 2015 Laffitte Teston
Red wine, 75 cl, Madiran, AOC Madiran
Le château Laffitte-Teston, ancré dans le département du Gers bénéficie des meilleurs terroirs de Maumusson-Laguian.
Caractéristiques du vignoble
Sol
: Argilo-calcaire, Grepp ou Tuff
Densité
: 5 200 Pieds/ha
Vendange
: manuelle, issu de vignes de 20 à 50 ans
Caractéristiques du vin
Cuvaison entre 18 et 22 jours à température raisonnée avec un ou plusieurs délestages total (action de vider tout le jus de la cuve par le bas et de le remettre par-dessus afin d'arroser et de casser le chapeau de marc pour extraire en douceur le maximum d'éléments qualitatifs). Élevage en fûts de chêne merrain de 1 et 2 vins durant 12 mois.
Cépages
: 80% Tannat, 10% Cabernet Franc, 10% Cabernet Sauvignon.
Accords culinaires
: à 17°-18° sur toutes viandes rouges, grillades, garbure, magrets, fromages.
Vieillira une bonne quinzaine d'années
-- Plus disponible --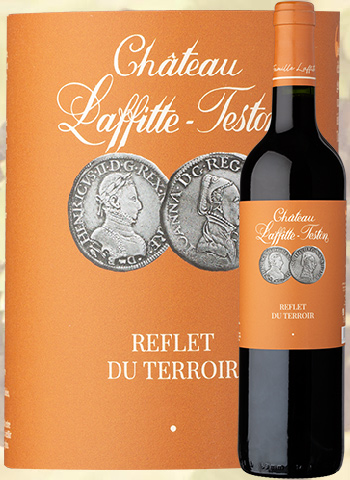 Autres millésimes et formats disponibles
Red wine, 75 cl, Madiran, AOC Madiran
Red wine, 150 cl, Madiran, AOC Madiran
Informations anciens millésimes
Red wine, 150 cl, Madiran, AOC Madiran
Red wine, 75 cl, Madiran, AOC Madiran
Red wine, 75 cl, Madiran, AOC Madiran
Prices including VAT, excluding delivery and customs duties.
Duties and transport are calculated on the order form.
Prices vary with the delivery country. Prices for delivery in
---
Les vins français
VAT Intra-Com. : FR 73 401 551 858
"Le Vignet" - 338 Chemin Biroc
31800 Villeneuve de Rivière - France


"Les vins français" are placing a supplementary range of wines at the exclusive disposition of retailers and professionals.

Customer Service
Phone : +33 (0)562 003 235
Mobile : +33 (0)684 382 629
@ : Les vins français
---