Security
This site has a SSL secure payment system which guarantees the confidentiality of your banking details while ordering.

>

Home

>

Fronton

>

Bellevue La Forêt

>

Château Bellevue La Forêt 2015 Magnum
Château Bellevue La Forêt 2015 Magnum
Red wine, 75 cl, Fronton, AOC Fronton
Médaille de Bronze : Concours des grands vins de France à Macon 2017
Le Frontonnais, vignoble toulousain, s'étage sur les larges terrasses entre Garonne et Tarn en quittant Toulouse par la rive droite.
La présence de fer et de quartz dans ce sol pauvre et graveleux permet à la Négrette d'exprimer son caractère très spécial, aux arômes de violette et de fruits noirs (mûre-cerise-cassis). Un vin sincère, inimitable, qui ne peut renier son terroir d'origine.
Cépages
: 65 % Négrette, 15 % Syrah, 20 % Cabernet Sauvignon.
La "Négrette", cépage unique au monde, est apparue au XIIème siècle sous le nom de « MAVRO » (noir en grec) rapportée de Chypre par les Chevaliers de l'Ordre de Saint-Jean de Jérusalem. Exigeante, elle s'est acclimatée dans ce seul terroir de Fronton. La Négrette est l'un des rares cépages révélant dans le vin des arômes identiques à ceux que l'on retrouve en croquant le raisin frais.
Garde
: Conservation de 5 à 6 ans selon les conditions de stockage.
Accords culinaires
: Entrecôte à la bordelaise, foie de veau aux oignons doux, carré de porc rôti au thym, Brie de Meaux.
( Actuellement indisponible )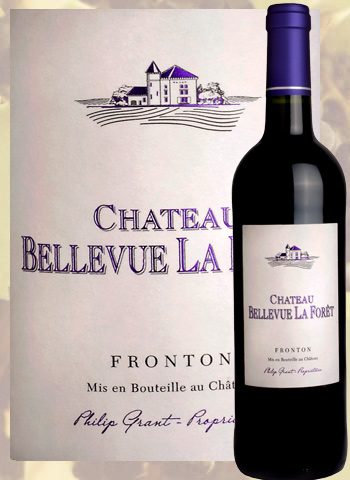 Autres millésimes ou formats :
Red wine, 150 cl, Fronton, AOC Fronton
Red wine, 75 cl, Fronton, AOC Fronton
Prices including VAT, excluding delivery and customs duties.
Duties and transport are calculated on the order form.
Prices vary with the delivery country. Prices for delivery in
Thanks you for your visit !
The french wines
Siret : 401 551 858
31800 Villeneuve de Rivière - France
Contact @ : Les vins français


"Les vins français" are placing a supplementary range of wines at the exclusive disposition of retailers and professionals.

Customer Service
Phone : + 33(0) 684 382 629
Fax : + 33 562 003 236