Security
This site has a SSL secure payment system which guarantees the confidentiality of your banking details while ordering.

>

Home

>

Buzet

>

Baron d'Ardeuil

>

La Tuque de Gueyze 2016 Vin rouge de Buzet
La Tuque de Gueyze 2016 Vin rouge de Buzet
Red wine, 75 cl, Buzet, AOC Buzet
Notes de dégustation : Vêtu d'une belle robe sombre, Tuque de Gueyze est un vin moderne et plaisant. Un vin gourmand que laissent présager, dès l'ouverture de la bouteille, les arômes de fruits rouges bien mûrs, et aussi des notes de confiture soulignées par des nuances toastées. C'est un vin complexe avec des tanins très doux et très enrobés, un vin long en bouche avec des retours particulièrement aromatiques
Caractéristiques du vin
Les Gascons ont toujours aimé les « tuquets » qui sont de petites collines. Elles permettent de voir assez loin et surtout de planter de la vigne sur leurs pentes bien drainées, situation très favorable aux ceps qui s'y enracinent de bonheur. Sol de graves et bonne exposition donnent un vin doté d'un aimable et beau caractère. Idéalement charpenté, élégant, au goût fruité fort plaisant. Sa fraîcheur en bouche le désigne comme le vin idéal d'un repas joyeux entre amis et parentèle. Les Gascons d'ici disent qu'il "a de la race". Comment dire mieux ? En précisant peut-être qu'il pourra vieillir 6 à 8 ans sans problème.
Accords culinaires
: Galantine de volaille, Jambon de Bayonne, Pizza, Filet mignon de porc aux pommes, Boudin aux pommes, Hachis parmentier, Pintadeau au chou, Côtelettes d'agneau au thym, Garbure, Poule au pot, Canard à l'orange, Rôti de porc aux oignons confits
Température de service
: 16-18°C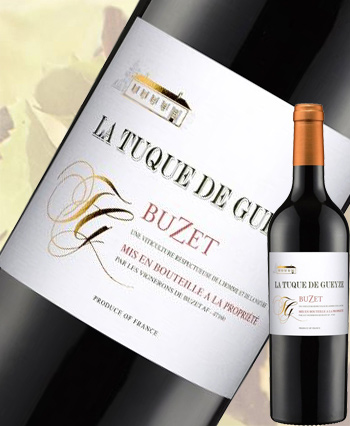 Prices including VAT, excluding delivery and customs duties.
Duties and transport are calculated on the order form.
Prices vary with the delivery country. Prices for delivery in
Thanks you for your visit !
The french wines
Siret : 401 551 858
31800 Villeneuve de Rivière - France
Contact @ : Les vins français


"Les vins français" are placing a supplementary range of wines at the exclusive disposition of retailers and professionals.

Customer Service
Phone : + 33(0) 562 003 235
Mobile : + 33(0) 684 382 629