Security
This site has a SSL secure payment system which guarantees the confidentiality of your banking details while ordering.

>

Home

>

1er Cru La Grande Montagne 2017 Lamy-Pillot
1er Cru La Grande Montagne 2017 Lamy-Pillot
White wine sec, 75 cl, Bourgogne, Côte De Beaune,
AOC Chassagne-Montrachet
Notes de dégustation : Ce vin allie la souplesse du Clos Saint Jean à la structure du Morgeot. Souvent très flatteur, il a besoin d'un élevage soigné pour respecter toute sa finesse.
Le vignoble
Nature du sol
: Marnes-Calcaires - Sol riche en cailloux.
Synthèse du millésime
2017 est un millésime précoce. Les vendanges ont débuté le 29 août, les grappes étaient bien fournies suite à une excellente floraison fin mai. Les conditions climatiques plutôt favorables donnent aux vins charme et générosité. 2017 est un millésime classique que l'on pourra aussi apprécier dans sa jeunesse.
Cépage
: Chardonnay
Élevage
: 12 mois en fûts de chêne 50% neufs, 30% de un vin, et 20% de deux vins.
Année de plantation de la vigne
: 1973
Potentiel de garde
: A boire de 4 à 10 ans.
Accords culinaires
: un poisson tel un loup un turbot.
Température de service
: 11-12°C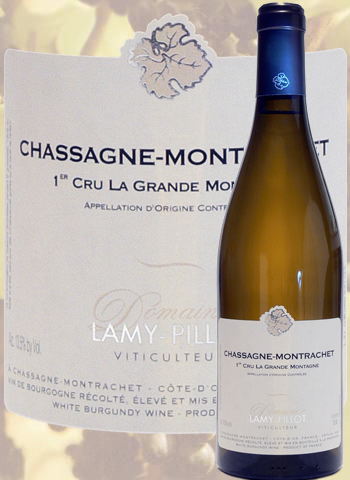 Prices including VAT, excluding delivery and customs duties.
Duties and transport are calculated on the order form.
Prices vary with the delivery country. Prices for delivery in
Thanks you for your visit !
The french wines
Siret : 401 551 858
31800 Villeneuve de Rivière - France
Contact @ : Les vins français


"Les vins français" are placing a supplementary range of wines at the exclusive disposition of retailers and professionals.

Customer Service
Phone : + 33(0) 562 003 235
Mobile : + 33(0) 684 382 629