Security
This site has a SSL secure payment system which guarantees the confidentiality of your banking details while ordering.

Les Fiefs de Lagrange 2013 Second Vin de Saint-Julien
Red wine, 75 cl, Bordeaux,
Second Vin
,
Saint-Julien
Guide Hachette 2017 : ★
Decanter : 16
Second vin du château Lagrange Troisième Cru Classé
Caisse Bois de 6 Bouteilles
Notes de dégustation : Ce millésime offre beaucoup de fruits rouges et vanille au nez, entrelacé de notes de bleuets et de kirsch. C'est simple, mais très puissant. La bouche est moyennement corsée, avec des tanins raffinés. La structure est surprenante pour un second vin, toute la finition est composée et très concentrée. Un second vin très louable dans ce millésime.
Synthèse du millésime
Le vin est caractérisé par des tannins ronds et fondus, des arômes de fruits rouge ou noirs sur sa jeunesse et montre néanmoins un bon potentiel de garde.
Climatologie
: Un hiver froid et humide suivit d'un printemps frais et pluvieux qui induisent une coulure sur les Merlots. Puis, des conditions estivales parmi les meilleures en 15 ans, avec un mois de juillet chaud et un mois d'août sec. L'été permet ainsi d'accélérer les phénomènes de maturation et de dégradation des composés aromatiques végétaux.
Caractéristiques du vin
Garde
: 20 ans
Cépages
: 61% de Cabernet Sauvignon, 30% Merlot et 9% Petit Verdot
Accords Culinaires
: Échine rôtie aux marrons, épaule de mouton farcie aux pistaches, pâté de faisan chaud.
-- Plus disponible --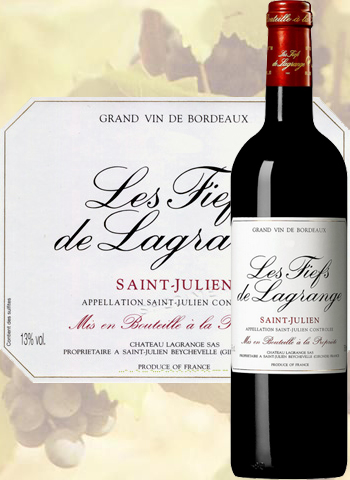 Autres millésimes et formats disponibles

Informations anciens millésimes
Prices including VAT, excluding delivery and customs duties.
Duties and transport are calculated on the order form.
Prices vary with the delivery country. Prices for delivery in
---
Les vins français
VAT Intra-Com. : FR 69 892 097 767
"Le Vignet" - 338 Chemin Biroc
31800 Villeneuve de Rivière - France


"Les vins français" are placing a supplementary range of wines at the exclusive disposition of retailers and professionals.

Customer Service
Phone : +33 (0)562 003 235
Mobile : +33 (0)684 382 629
@ : Les vins français
---