Security
This site has a SSL secure payment system which guarantees the confidentiality of your banking details while ordering.

La Demoiselle de Sociando-Mallet 2016 Second Vin du Haut-Médoc
Red wine, 75 cl, Bordeaux,
Second Vin
,
Haut-Médoc
Second vin du Château Sociando Mallet
Notes de dégustation : Robe d'un beau rubis pourpre. Le nez sur des arômes gourmands et suaves de fruits rouges, fraise, framboise, cerise, chocolat. Beaucoup de fraîcheur. Agréable et souple, avec des tanins fondus, un joli volume de bouche et une bonne longueur.
Caractéristiques du vin
La Demoiselle de Sociando-Mallet est un vin produit par les plus jeunes vignes de la propriété, et par les parcelles dont la nature de sol est la plus favorable à la production de très bons Merlots. Ce cépage entre en effet pour moitié dans l'Assemblage de ce vin. Ces vignes représentent une vingtaine d'hectares qui bénéficient tout au long de l'année des mêmes soins et des mêmes travaux que l'ensemble du Vignoble.
Le vin tire son nom de la « demoiselle », une espèce de libellule qui vit dans le Médoc. Légèreté et élégance sont deux qualificatifs qui caractérisent le vin et l'insecte.
L'élevage de la Demoiselle de Sociando-Mallet se fait pour majeure partie en cuve, de manière à conserver à ce vin la fraîcheur et le fruité venant du Merlot, qui le rendent facile et agréable à boire dès ses jeunes années.
Synthèse du millésime
Cépages
: 65% Merlot, 33% Cabernet Sauvignon, 2% Cabernet Franc
Accords culinaires
: Cailles grillées, épaule de mouton farcie aux pistaches, papillotes d'agneau, pâté de faisan chaud, pigeons marinés en cocotte.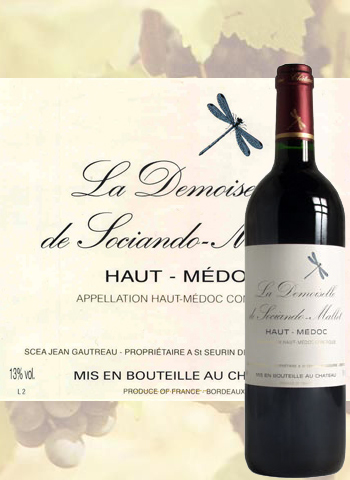 Autres millésimes et formats disponibles
Red wine, 75 cl, Bordeaux, Second Vin, Haut-Médoc
Red wine, 75 cl, Bordeaux, Second Vin, Haut-Médoc
Informations anciens millésimes
Red wine, 75 cl, Bordeaux, Second Vin, Haut-Médoc
Red wine, 75 cl, Bordeaux, Second Vin, Haut-Médoc
Red wine, 75 cl, Bordeaux, Second Vin, Haut-Médoc
Prices including VAT, excluding delivery and customs duties.
Duties and transport are calculated on the order form.
Prices vary with the delivery country. Prices for delivery in
---
Les vins français
VAT Intra-Com. : FR 69 892 097 767
"Le Vignet" - 338 Chemin Biroc
31800 Villeneuve de Rivière - France


"Les vins français" are placing a supplementary range of wines at the exclusive disposition of retailers and professionals.

Customer Service
Phone : +33 (0)562 003 235
Mobile : +33 (0)684 382 629
@ : Les vins français
---