Security
This site has a SSL secure payment system which guarantees the confidentiality of your banking details while ordering.

>

Home

>

Bordeaux

>

Château Saint-Pierre 2014 Grand Cru de Saint-Julien
Château Saint-Pierre 2014 Grand Cru de Saint-Julien
Red wine, 75 cl, Bordeaux,
Quatrième Cru Classé
,
Saint-Julien
Guide Hachette 2018 : ★★
Guide Parker : 85–87
Wine Spectator : 89–92
Decanter : 17+
Quatrième Cru Classé de Saint-Julien
Notes de dégustation : L'échantillon délivre le sentiment d'un peu plus de densité de matière que celui de Beychevelle ou Talbot, avec un peu plus d'
énergie dans le tanin, moins de raffinement aromatique néanmoins que dans les grands Seconds, superbe rapport qualité-prix à prévoir car le vins a de l'allure, du fond, et la taille monumentale d'un Saint-Julien.
L'histoire du Château
Domaine créé au 17ème siècle, ce 4ème Grand Cru Classé fut à la suite de plusieurs successions, morcelé et dispersé. Par chance et ténacité, en 1982 Henri Martin, a pu reconstituer la propriété telle que connue en 1855, année du fameux classement. Depuis, et grâce à l'investissement des propriétaires, Saint-Pierre est reconnu par tous comme étant un parfait représentant des Grands Crus Classés de la prestigieuse appellation Saint-Julien.
Caractéristiques du Vignoble
Classement
: 4ème Grand Cru Classé en 1855
Superficie du vignoble
: 17 ha.
Sols
: Graves d'origine gunzienne sur un sous-sol argilo-sablonneux
Cépages
: 75% Cabernet Sauvignon, 15% Merlot, 10% Cabernet Franc
Vinification
: Traditionnelle pour la production de vins d'exception et de longue garde
Vendanges
: Manuelles
Pratiques culturales
: En fûts, pendant 14 à 16 mois, renouvelés par moitié tous les ans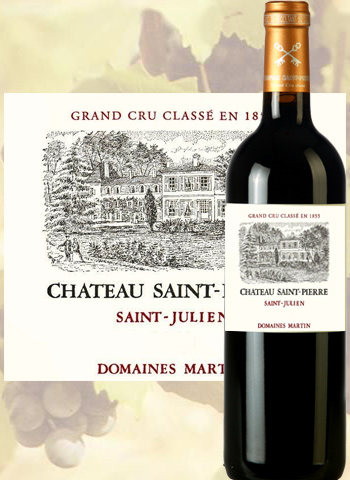 Autres millésimes ou formats :
Red wine, 75 cl, Bordeaux, Quatrième Cru Classé, Saint-Julien
Prices including VAT, excluding delivery and customs duties.
Duties and transport are calculated on the order form.
Prices vary with the delivery country. Prices for delivery in
Thanks you for your visit !
The french wines
Siret : 401 551 858
31800 Villeneuve de Rivière - France
Contact @ : Les vins français


"Les vins français" are placing a supplementary range of wines at the exclusive disposition of retailers and professionals.

Customer Service
Phone : + 33(0) 684 382 629
Fax : + 33 562 003 236