Security
This site has a SSL secure payment system which guarantees the confidentiality of your banking details while ordering.

>

Home

>

Bordeaux

>

Fortin Plaisance Magnum 2014 Saint-Émilion Cheval Quancard
Fortin Plaisance Magnum 2014 Saint-Émilion Cheval Quancard
Red wine, 150 cl, Bordeaux, AOC Saint-Émilion
Médaille de Bronze : Concours des Vins de Bordeaux 2016
Médaille de Bronze : Concours des Grands Vins de France Mâcon 2016
Magnum (150 cl)
Élevé en Fûts de Chêne
Notes de dégustation : Un vin précis. Vraiment élégant sur ce millésime. Texture lisse. Grain fin de tanin. Persistance et longueur sur la finition.
L'histoire du Château
Depuis cinq générations, la famille Bertrand pérennise sa passion de la vigne et du vin. Aujourd'hui, Jacques Bertrand et ses enfants transcendent ce savoir-faire en alliant modernité et respect des traditions.
Le vignoble
Exposé sur le côteau sud-est de Saint-Hipppolyte, le vignoble couvre une surface de 6,30 ha, et fait l'objet de sélections rigoureuses : ébourgeonnage, éclaircissage et effeuillage permettent de gérer le rendement en optimisant la qualité. Les vendanges se font à la main puis le raisin est sélectionné sur table de tri.
La légende fait remonter le vignoble réel à une époque romaine. Il acquiert un développement au 13e siècle. Fortin Plaisance est une cuvée issue de différentes propriétés sélectionnées avec soin.
Synthèse du millésime
Cépages
: 80% Merlot, 20% Cabernet Sauvignon
Garde
: Ce vin qui peut être consommé dès maintenant, possède une aptitude au vieillissement de 3 à 5 ans.
Accords
: S'appréciera accompagné de viandes rouges ou blanches ou encore avec du fromage à pâte molle.
Température de service
: 16-18°C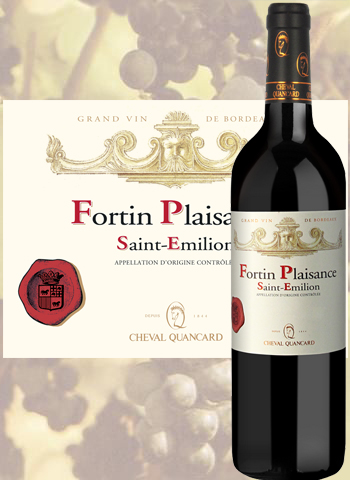 Autres millésimes ou formats :
Prices including VAT, excluding delivery and customs duties.
Duties and transport are calculated on the order form.
Prices vary with the delivery country. Prices for delivery in
Thanks you for your visit !
The french wines
Siret : 401 551 858
31800 Villeneuve de Rivière - France
Contact @ : Les vins français


"Les vins français" are placing a supplementary range of wines at the exclusive disposition of retailers and professionals.

Customer Service
Phone : + 33(0) 562 003 235
Mobile : + 33(0) 684 382 629