Security
This site has a SSL secure payment system which guarantees the confidentiality of your banking details while ordering.

>

Home

>

Bordeaux

>

Cheval Quancard Réserve Rouge 2016 Magnum de Bordeaux
Cheval Quancard Réserve Rouge 2016 Magnum de Bordeaux
Red wine, 150 cl, Bordeaux,
AOC Bordeaux
Guide Hachette 2019 : ★★
James Suckling : 88
Médaille d'Or : Concours de Bordeaux Vins d'Aquitaine 2018
Médaille d'Argent : Concours des vins ELLE à table 2018
Magnum (150 cl)
Notes de dégustation : Un vin généreux d'une couleur intense. Il séduit par ses arômes de fruits rouge biens mûrs et ses notes vanillées. En bouche, il présente un parfait équilibre avec une belle longueur rehaussée de tannins soyeux.
L'appellation
L'AOC Bordeaux Rouge est la première d'une sélection d'appellations phares du Bordelais. Elle présente toute l'expression du savoir-faire de Cheval Quancard dans un packaging visant une cible de consommateurs rajeunie, sensible à l'esthétique des produits et au design.
Caractéristiques du vin
L'icône de Cheval Quancard est placée en évidence sur la bouteille tel un repère visuel instantané pour les consommateurs. Avec ce nouveau vin, Cheval Quancard engage son intégrité auprès des consommateurs et leur envoie un signal de qualité plus fort que jamais.
Cépages
: 75% Merlot, 25% Cabernet Sauvignon
Garde
: Ce vin qui peut être consommé dès maintenant, possède une aptitude au vieillissement de 1 à 3 ans.
Accords
: Idéal seul, à température ambiante, pour un moment de détente. Il saura jouir le parfait partenaire d'un moment gourmand, en accompagnant d'une viande savoureuse ou d'un fromage de terroir.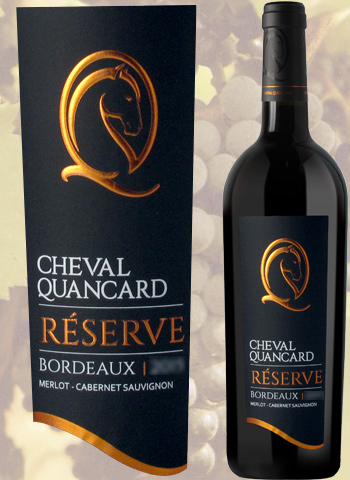 Autres millésimes ou formats :
Prices including VAT, excluding delivery and customs duties.
Duties and transport are calculated on the order form.
Prices vary with the delivery country. Prices for delivery in
Thanks you for your visit !
The french wines
Siret : 401 551 858
31800 Villeneuve de Rivière - France
Contact @ : Les vins français


"Les vins français" are placing a supplementary range of wines at the exclusive disposition of retailers and professionals.

Customer Service
Phone : + 33(0) 562 003 235
Mobile : + 33(0) 684 382 629