Security
This site has a SSL secure payment system which guarantees the confidentiality of your banking details while ordering.

>

Home

>

Bordeaux

>

Château Franc Pipeau 2015 Saint-Émilion Grand Cru
Château Franc Pipeau 2015 Saint-Émilion Grand Cru
Red wine, 75 cl, Bordeaux,
AOC Saint-Émilion Grand Cru
Notes de dégustation : Une jolie robe grenat parée d'un bouquet mêlant les fruits cuits à des odeurs épicées et vanillées de bon bois. Riche et généreux grâce à une belle maturité des tanins, élégamment habillés par un joli boisé. Un vin de caractère, typique de cette appellation, berceau des meilleurs vins.
L'histoire du château
Depuis cinq générations, la famille Bertrand pérennise sa passion de la vigne et du vin. Aujourd'hui, Jacques Bertrand et ses enfants transcendent ce savoir-faire en alliant modernité et respect des traditions. Exposé sur le coteau sud-est de Saint-Hippolyte, le vignoble couvre une surface de 6,30 ha, et fait l'objet de sélections rigoureuses : ébourgeonnage, éclaircissage et effeuillage permettent de gérer le rendement en optimisant la qualité. Les vendanges se font à la main puis le raisin est sélectionné sur table de tri.
Caractéristiques du vin
Cépages
: 75% Merlot, 25% Cabernet-Franc.
Garde
: Ce vin peut être consommé immédiatement atteindra sa plénitude vers 2025.
Accords
: A servir sur de la volaille et du gibier à plumes rôti, un confit de canard, du Brie de Meaux, de l'Edam ou de l'Emmental.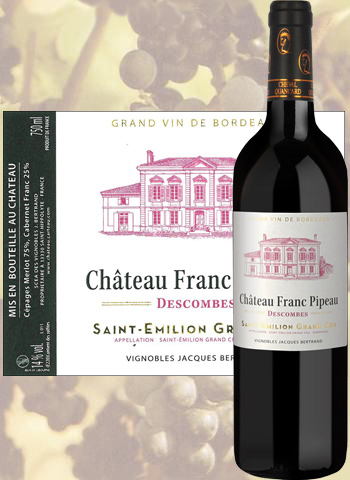 Autres millésimes ou formats :
Red wine, 150 cl, Bordeaux, AOC Saint-Émilion Grand Cru
Prices including VAT, excluding delivery and customs duties.
Duties and transport are calculated on the order form.
Prices vary with the delivery country. Prices for delivery in
Thanks you for your visit !
The french wines
Siret : 401 551 858
31800 Villeneuve de Rivière - France
Contact @ : Les vins français


"Les vins français" are placing a supplementary range of wines at the exclusive disposition of retailers and professionals.

Customer Service
Phone : + 33(0) 562 003 235
Mobile : + 33(0) 684 382 629