Security
This site has a SSL secure payment system which guarantees the confidentiality of your banking details while ordering.

>

Home

>

Bordeaux

>

Château Bel Air Ortet 2013 Saint-Estèphe
Château Bel Air Ortet 2013 Saint-Estèphe
Red wine, 75 cl, Bordeaux,
AOC Saint-Estèphe
Élevé en Fûts de Chêne
Notes de dégustation : Vin doté d'une jolie robe grenat et d'un nez puissant aux notes boisées où se côtoient le fruit confit, le pruneau et le vieux cuir. La bouche est ample, riche et volontaire.
Le Vignoble
Situé contre le village de Saint-Estèphe, le vignoble du Château Bel-Air Ortet bénéficie d'un sous-sol essentiellement graveleux particulièrement bien drainé. Ses vins, aux tanins profonds, sont harmonieux, charpentés et, comme pour les grands Saint-Estèphe, un certain vieillissement contribue au développement de ses grandes qualités.
Sur ce micro-vignoble tout concourt à accomplir un vrai travail d'orfèvre... Par petites touches, sur ce terroir d'exception, il est possible de faire éclore un vin d'une puissance et d'une ampleur rares. À chaque millésime, c'est l'avènement d'un grand classique.
Commune
: Saint-Estèphe
Terroirs
: Croupes graveleuse
Superficie
: 3,50 hectares
Densité de plantation
: 8000 pieds / hectare
Rendement
: 52 hectolitres / hectare
Age moyen de la vigne
: 25 ans.
Caractéristiques du vin
Cépages
: 52% Merlot, 48% Cabernet Sauvignon
Garde
: Ce vin qui peut être consommé immédiatement atteindre sa plénitude vers 2020/2022.
Accords
: A servir sur un foie de veau, un gigot à la ficelle ou un baron d'agneau au four. Et en accompagnement des fromages : Brebis des Pyrénées, Edam, Pont L'Evêque.
Température de service
: 16-18°C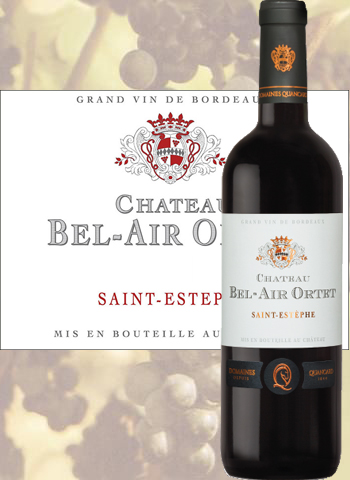 Autres millésimes ou formats :
Red wine, 75 cl, Bordeaux, AOC Saint-Estèphe
Red wine, 75 cl, Bordeaux, AOC Saint-Estèphe
Prices including VAT, excluding delivery and customs duties.
Duties and transport are calculated on the order form.
Prices vary with the delivery country. Prices for delivery in
Thanks you for your visit !
The french wines
Siret : 401 551 858
31800 Villeneuve de Rivière - France
Contact @ : Les vins français


"Les vins français" are placing a supplementary range of wines at the exclusive disposition of retailers and professionals.

Customer Service
Phone : + 33(0) 562 003 235
Mobile : + 33(0) 684 382 629