Security
This site has a SSL secure payment system which guarantees the confidentiality of your banking details while ordering.

>

Home

>

Bordeaux

>

Chai De Bordes Blanc 2017 Bordeaux Cheval Quancard
Chai De Bordes Blanc 2017 Bordeaux Cheval Quancard
White wine sec, 75 cl, Bordeaux,
AOC Bordeaux Blanc
Cité au Guide Hachette 2019
Wine Enthusiast : 89 Pts
Notes de dégustation : Un vin blanc net et croquant, d'une remarquable pureté d'expression dans une saveur presque cristalline. Il se révèle parfaitement à table avec des coquillages et fromages à pâte dure.
L'histoire du Chai
Le château de Bordes appartient à la famille Quancard depuis 1948 et s'est équipée d'un chai en 1975. La marque Chai de Bordes de sa célèbre maison de négoce a été lancée pour diffuser des vins élaborés à partir des vendanges de petites propriétés alentour.
Caractéristiques du vin
Chai de bordes blanc sec est élaboré selon les mêmes exigences accordées aux grandes Cuvées de Cheval Quancard et fait l'objet d'une sélection parcellaire méticuleuse sur différents sites de vinification. Il bénéficie des dernières innovations œnologiques lors de son élaboration. L'accent est mis sur le Sauvignon qui lui apporte une grande fraîcheur complétée par le fruité du Sémillon.
Cépages
: 80% Sauvignon blanc, 20% Sémillon
Garde
: Ce vin qui peut être consommé dès maintenant, possède une aptitude au vieillissement de 1 à 2 ans.
Accords
: A servir en apéritif, sur du poisson, des fruits de mer, de la viande blanche.
-- Plus disponible --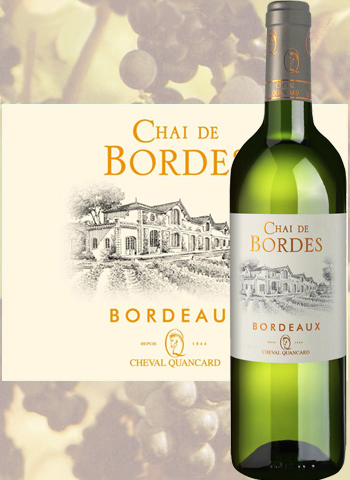 Autres millésimes et formats disponibles
White wine sec, 75 cl, Bordeaux, AOC Bordeaux Blanc
Informations anciens millésimes
White wine sec, 75 cl, Bordeaux, AOC Bordeaux Blanc
White wine sec, 75 cl, Bordeaux, AOC Bordeaux Blanc
White wine sec, 75 cl, Bordeaux, AOC Bordeaux Blanc
Prices including VAT, excluding delivery and customs duties.
Duties and transport are calculated on the order form.
Prices vary with the delivery country. Prices for delivery in
---
Les vins français
VAT Intra-Com. : FR 73 401 551 858
"Le Vignet" - 338 Chemin Biroc
31800 Villeneuve de Rivière - France


"Les vins français" are placing a supplementary range of wines at the exclusive disposition of retailers and professionals.

Customer Service
Phone : +33 (0)562 003 235
Mobile : +33 (0)684 382 629
@ : Les vins français
---