Security
This site has a SSL secure payment system which guarantees the confidentiality of your banking details while ordering.

>

Home

>

Alsace

>

Dopff

>

Wild Brut Dopff au Moulin 2014
Wild Brut Dopff au Moulin 2014
White wine, 75 cl, Alsace, AOC Crémant d'Alsace
Wild Brut Non Dosé
Notes de dégustation : La robe est jaune clair à reflets verts, bulles fines et régulières, note florale racée d'un grand Pinot Blanc, sec mais sans verdeur, corps et finesse.
Caractéristiques du crémant
L'appellation Crémant d'Alsace Contrôlée est un vin d'Alsace vinifié en méthode traditionnelle suivant une législation rigoureuse donnant toutes les garanties d'un produit de grande classe. Issu des variétés de Pinot, il étonne le dégustateur non averti par sa qualité.
Cépages
: Pinot Blanc + Pinot Auxerrois
Accords culinaires
: au moment de l'apéritif, ou tout au long d'un repas, avec tout événement à fêter, un apéritif de classe et une cuvée à découvrir.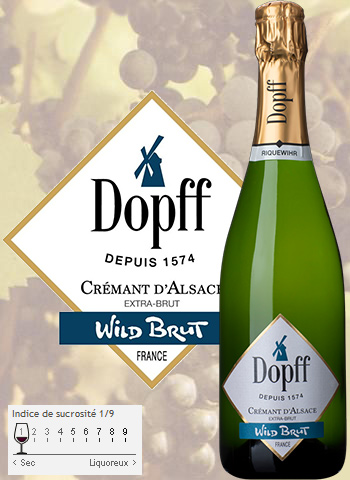 Prices including VAT, excluding delivery and customs duties.
Duties and transport are calculated on the order form.
Prices vary with the delivery country. Prices for delivery in
Thanks you for your visit !
The french wines
Siret : 401 551 858
31800 Villeneuve de Rivière - France
Contact @ : Les vins français


"Les vins français" are placing a supplementary range of wines at the exclusive disposition of retailers and professionals.

Customer Service
Phone : + 33(0) 684 382 629
Fax : + 33 562 003 236