Security
This site has a SSL secure payment system which guarantees the confidentiality of your banking details while ordering.

>

Home

>

Alsace

>

Dopff

>

Riesling Réserve Cuvée Europe Dopff au Moulin 2018
Riesling Réserve Cuvée Europe Dopff au Moulin 2018
White wine, 75 cl, Alsace, AOC Alsace, Riesling
Notes de dégustation : Sec, racé, délicatement fruité, il offre un bouquet d 'une grande finesse avec des nuances parfois minérales ou florales.
Caractéristiques du vin
Le Riesling Réserve a été servi lors de la première assemblée de l'Union Européenne à Strasbourg en 1959. En rappel de cet événement, nous l'avons dénommé Cuvée Europe, présageant ainsi l'actualité. Sélection de raisins qui proviennent des meilleurs terroirs de la région de Riquewihr.
Cépage
 : Riesling
Degré alcool
: 12.5 % Vol.
Sucres résiduels
: 5g/l
Acidité totale
: 4.6 g/l H2SO4 / 6.9 g/l en A.T
Accords culinaires
: avec de la salade et des fruits de mer.
Garde
: à boire jeune dans les 2 à 3 ans.
Température de service
: 8-10°C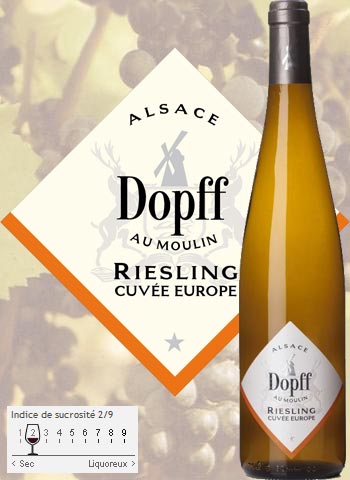 Prices including VAT, excluding delivery and customs duties.
Duties and transport are calculated on the order form.
Prices vary with the delivery country. Prices for delivery in
Thanks you for your visit !
The french wines
Siret : 401 551 858
31800 Villeneuve de Rivière - France
Contact @ : Les vins français


"Les vins français" are placing a supplementary range of wines at the exclusive disposition of retailers and professionals.

Customer Service
Phone : + 33(0) 562 003 235
Mobile : + 33(0) 684 382 629