Security
This site has a SSL secure payment system which guarantees the confidentiality of your banking details while ordering.

>

Home

>

Alsace

>

Dopff

>

Riesling De Riquewihr Dopff au Moulin 2016
Riesling De Riquewihr Dopff au Moulin 2016
White wine, 75 cl, Alsace, AOC Alsace, Riesling
Médaille d'Argent : Concours des vins d'Alsace de Colmar
Internationaler Riesling Best of Riesling 2018 : 88/100
Notes de dégustation : Sec, racé, délicatement fruité, il offre un bouquet d'une grande finesse avec des nuances parfois minérales ou florales.
Caractéristiques du vignoble
Ce vin provient d'un coteau de Riquewihr exposé, Sud / Sud-Est, d'une altitude moyenne de 250m, sol sablonneux, très léger, riche en galets permettant un réchauffement rapide, sols acides pourvus en matières organiques, sous-sol évoluant vers des sables très perméables.
Caractéristiques du vin
Sigillé de Qualité de la Confrérie Saint-Étienne
Vinification
: Pressurage de raisins, débourbage statique. Fermentation thermorégulée. Conservation sur lies fines pendant 9 mois avec remise en suspension.
Degré alcool
: 12.9 % Vol.
Sucres résiduels
: 2.8g/l
Acidité totale
: 4.6 g/l H2SO4 / 6.9 g/l en A.T
Accords culinaires
: crustacés, une choucroute garnie, des escargots, un coq au Riesling, un lapin, un Saint Pierre à l'oseille, un brochet à la crème, une matelote au Riesling, un sandre au Riesling, une truite au bleu, une anguille au vert, un kougelhopf de saumon.
Garde
: Peut facilement vieillir 10 ans en acquérant ce goût spécifique de minéral fossile apprécié par les amateurs.
Température de service
: 8-10°C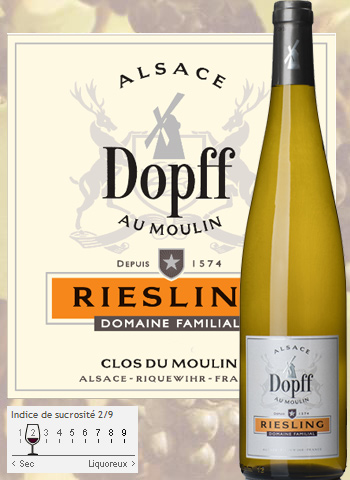 Prices including VAT, excluding delivery and customs duties.
Duties and transport are calculated on the order form.
Prices vary with the delivery country. Prices for delivery in
Thanks you for your visit !
The french wines
Siret : 401 551 858
31800 Villeneuve de Rivière - France
Contact @ : Les vins français


"Les vins français" are placing a supplementary range of wines at the exclusive disposition of retailers and professionals.

Customer Service
Phone : + 33(0) 562 003 235
Mobile : + 33(0) 684 382 629