Security
This site has a SSL secure payment system which guarantees the confidentiality of your banking details while ordering.

>

Home

>

Alsace

>

Dopff

>

Pinot Blanc Tiré Sur Lies Dopff au Moulin 2017
Pinot Blanc Tiré Sur Lies Dopff au Moulin 2017
White wine, 75 cl, Alsace, AOC Alsace, Pinot Blanc
Sigillé de Qualité de la Confrérie St-Étienne
Notes de dégustation : De robe jaune clair, un nez floral élégant sur des notes de fleurs blanches et de fruits secs. Attaque veloutée, le vin est corsé, sec et complexe avec une acide droite et longue, il allie fraîcheur et souplesse pour représenter un juste milieu dans la gamme des vins d'Alsace.
Caractéristiques du vin
Ce vin est issu d'un terroir granitique sur la commune de Turckheim en exposition Sud Ouest.
Vendange manuelle avec trie le 10 et 11 septembre 2017 à maturité optimale. (14%Vol)
Pressurage long en raisins entiers. Débourbage statique et mise en fermentation à température contrôlée. Conservations sur lies fines jusqu'à la mise en bouteille.
Les vins issus du millésime 2017 présentent une belle matière et de la complexité.
Degré alcool
: 13.8 % Vol.
Sucres résiduels
: 2.7 g/l
Acidité totale
: 3.5 g/l en H2SO4 / 5.25 g/l en A.T.
Accords culinaires
: Cuisine traditionnelle alsacienne (quiches, tartes flambées...). Le gras de ce vin permet son service sur des asperges, des artichauts, des brocolis, charcuterie, volaille.
Température de service
: 8°-10°C.
Garde
: Vin de bonne garde (de 3 à 5 ans).
Température de service
: 8-10°C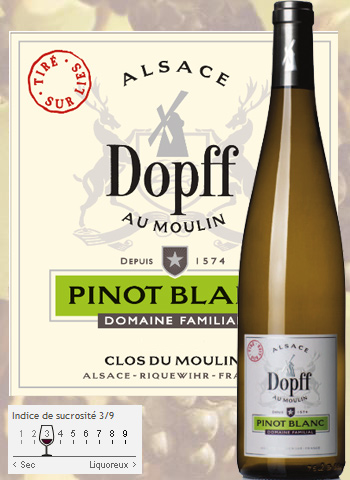 Prices including VAT, excluding delivery and customs duties.
Duties and transport are calculated on the order form.
Prices vary with the delivery country. Prices for delivery in
Thanks you for your visit !
The french wines
Siret : 401 551 858
31800 Villeneuve de Rivière - France
Contact @ : Les vins français


"Les vins français" are placing a supplementary range of wines at the exclusive disposition of retailers and professionals.

Customer Service
Phone : + 33(0) 562 003 235
Mobile : + 33(0) 684 382 629