Security
This site has a SSL secure payment system which guarantees the confidentiality of your banking details while ordering.

>

Home

>

Deschants Magnum Rouge 2016 Saint-Joseph Chapoutier
Deschants Magnum Rouge 2016 Saint-Joseph Chapoutier
Red wine, 150 cl, Vallée du Rhône,
AOC Saint-Joseph
Vinous : 90-92
Wine Advocate : 91-93
Magnum 150 cl
Côtes du Rhône Septentrionales
Notes de dégustation : La robe est Grenat intense, violacée. Au nez ce vin est très floral (violette), cassis, il évolue vers la réglisse et les épices. En bouche l'attaque est souple, avec une dominante de fruits rouges. La finale est longue, marquée par les épices.
Caractéristiques du vignoble
L'origine de ce vignoble se situe sur les communes proches de Tournon : Mauves, Saint-Jean de Muzols et Lemps. Le "vin de Mauves" était réputé au siècle dernier jusque sur la table des tsars. Le nom "Saint-Joseph" vient du nom des carmes qui cultivait dès l'origine le vignoble, Saint-Joseph étant leur saint Patron. Deux sites étaient déjà très renommés : le coteau de Saint-Joseph, actuel emplacement d'une parcelle appartenant à la maison Chapoutier et le coteau de Saint-Épine.
Granitique légèrement acide sur la rive droite du Rhône sur les contreforts du Massif Central. Chapoutier est propriétaire de la parcelle de Saint-Joseph, située entre Mauves et Tournon, qui a donné son nom à l'ensemble de l'appellation par la suite.
Caractéristiques du vin
La vinification
: Le vin est vinifié en cuves béton ouvertes avec un à deux remontages par jour. La cuvaison dure entre 3 et 4 semaines.
L'élevage
: Élevage principalement en cuves, avec une partie en fûts de chêne de 12 à 18 mois.
Accords culinaires
: Charcuterie. Carré d'agneau aux fines herbes. Filet de biche sauce grand veneur. Fromage de brebis de type Ossau-Iraty (fromage à pâte serrée du pays basque).
Servir
: Vers 16-18°C.
Volume d'alcool
: 13%
Garde
: de 6 à 10 ans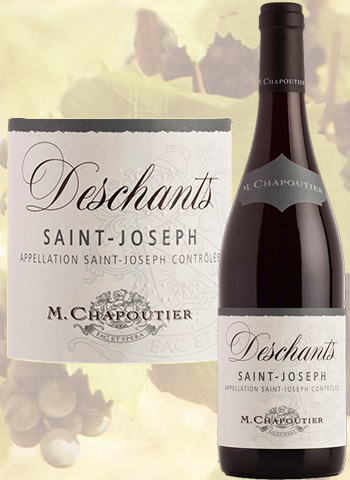 Autres millésimes ou formats :
White wine, 75 cl, Vallée du Rhône, AOC Saint-Joseph
Red wine, 75 cl, Vallée du Rhône, AOC Saint-Joseph
Prices including VAT, excluding delivery and customs duties.
Duties and transport are calculated on the order form.
Prices vary with the delivery country. Prices for delivery in
Thanks you for your visit !
The french wines
Siret : 401 551 858
31800 Villeneuve de Rivière - France
Contact @ : Les vins français


"Les vins français" are placing a supplementary range of wines at the exclusive disposition of retailers and professionals.

Customer Service
Phone : + 33(0) 562 003 235
Mobile : + 33(0) 684 382 629