Security
This site has a SSL secure payment system which guarantees the confidentiality of your banking details while ordering.

>

Home

>

Beaurevoir 2017 Tavel Chapoutier
Beaurevoir 2017 Tavel Chapoutier
Rosé wine, 75 cl, Vallée du Rhône,
AOC Tavel
Côtes du Rhône Méridionales
Notes de dégustation : Robe avec quelques reflets orangés, saumonés. Nez, senteurs de fruits mûrs, abricot et griotte. En Bouche, rond, harmonieux, avec beaucoup de fruits rouges à noyaux (cerise).
L'histoire du vignoble
De la cour papale (Clément VII et Benoît XIII) aux rois de France (François 1er et Louis XIV), de Balzac à Brillat-Savarin, on a toujours considéré que les rosés de Tavel comptaient parmi les meilleurs de France. En 1820, leur cote est comparable à celles des vins de Cornas et de Châteauneuf-du-Pape.
Caractéristiques du vin
Aujourd'hui Tavel est remarquable de finesse et d'élégance, bien loin du rosé "traditionnel". En effet, plus qu'un rosé ordinaire, c'est un rosé de gastronomie.
Cépage
: Grenache.
Accords culinaires
: Idéal pour les buffets. Couscous. Cuisine asiatique.
Rosé structuré, parfaitement défini, il est vinifié dans un style net et franc.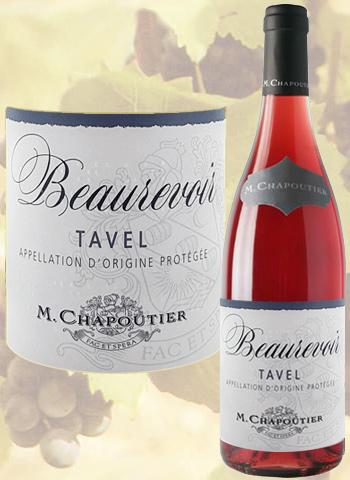 Prices including VAT, excluding delivery and customs duties.
Duties and transport are calculated on the order form.
Prices vary with the delivery country. Prices for delivery in
Thanks you for your visit !
The french wines
Siret : 401 551 858
31800 Villeneuve de Rivière - France
Contact @ : Les vins français


"Les vins français" are placing a supplementary range of wines at the exclusive disposition of retailers and professionals.

Customer Service
Phone : + 33(0) 684 382 629
Fax : + 33 562 003 236