Security
This site has a SSL secure payment system which guarantees the confidentiality of your banking details while ordering.

>

Home

>

Lorgeril

>

Domaine La Borie Blanche 2017 Minervois Lorgeril
Domaine La Borie Blanche 2017 Minervois Lorgeril
Red wine, 75 cl, Languedoc-Roussillon, AOP Minervois
Cuvée Classique
Notes de dégustation : La syrah est à l'honneur avec le soutien de 30% de vieux grenache pour donner ce vin pourpre profond aux senteurs de prune, de réglisse et d'épices à dominante poivrée. Crémeux en bouche, il est élégant et soyeux. On retrouve toute la palette aromatique nuancée d'une touche vanillée. Chaleureux et structuré, d'une longueur remarquable, c'est un bel ambassadeur du Minervois.
Cépages
: Syrah macération carbonique 70 %, vieux Grenache 30 %
Vinification
: Vendange manuelle. Méthode traditionnelle. Eraflage sélectif. Séparée par cépage. Maîtrise des températures. Macération supérieure à 25 jours pour la Syrah de Selrister et Grenache. Macération carbonique 14 jours pour la Syrah macération.
Accords culinaires
: canards, gibiers et viandes rouges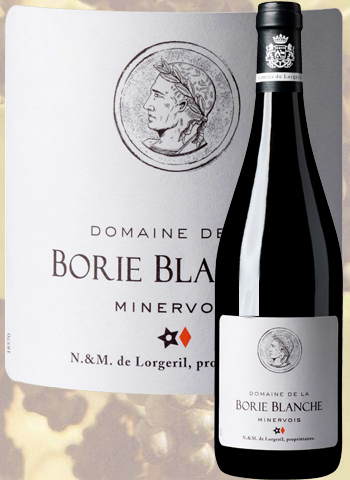 Prices including VAT, excluding delivery and customs duties.
Duties and transport are calculated on the order form.
Prices vary with the delivery country. Prices for delivery in
Thanks you for your visit !
The french wines
Siret : 401 551 858
31800 Villeneuve de Rivière - France
Contact @ : Les vins français


"Les vins français" are placing a supplementary range of wines at the exclusive disposition of retailers and professionals.

Customer Service
Phone : + 33(0) 684 382 629
Fax : + 33 562 003 236