Security
This site has a SSL secure payment system which guarantees the confidentiality of your banking details while ordering.

>

Home

>

Lorgeril

>

Château de Pennautier Terroirs d'Altitude Rouge 2014 Cabardès
Château de Pennautier Terroirs d'Altitude Rouge 2014 Cabardès
Red wine, 75 cl, Languedoc-Roussillon,
AOP Cabardès
Guide Bettane & Desseauve : 14,5/20
Médaille d'Or : Concours des grands vins de France de Mâcon 2016
Médaille d'argent : Concours des vins des vignerons indépendants 2016
Terroirs d'Altitude
Notes de dégustation : Vêtu d'une robe grenat profond à reflets sombres. Complexe, le nez laisse parler les épices, le clou de girofle. En bouche, le boisé encore un peu dominant accompagne très bien le vin. Il conviendra de savoir l'attendre quelques mois.
Le vignoble
Les Terroirs d'altitude du domaine culminent à 360 m, là ou la fraîcheur permet la maturation lente et progressive des tanins. Les sols sont calcaires caillouteux. Exposées au Sud, les vignes bénéficient de l'alternance Est-Ouest du climat.
Caractéristiques du vin
Cépages
: Merlot 40%, Syrah 30%, Cabernet Sauvignon 20% Grenache 10%.
Vinification
: Vendange égrappée. Vinification par cépage. Macération longue (25-30 jours).
Accords culinaires
: Grillades, Daube Provençale, fromages à pâte dure.
Température de service
: 17-18°C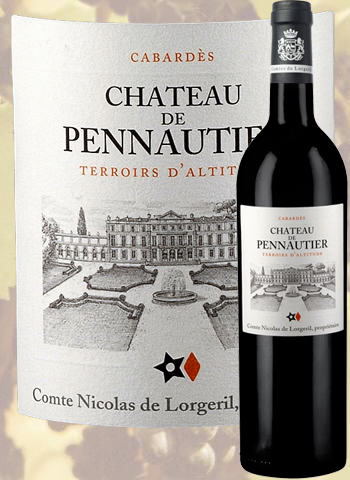 Autres millésimes et formats disponibles :
Red wine, 150 cl, Languedoc-Roussillon, AOP Cabardès
Prices including VAT, excluding delivery and customs duties.
Duties and transport are calculated on the order form.
Prices vary with the delivery country. Prices for delivery in
Thanks you for your visit !
The french wines
Siret : 401 551 858
31800 Villeneuve de Rivière - France
Contact @ : Les vins français


"Les vins français" are placing a supplementary range of wines at the exclusive disposition of retailers and professionals.

Customer Service
Phone : + 33(0) 562 003 235
Mobile : + 33(0) 684 382 629