Security
This site has a SSL secure payment system which guarantees the confidentiality of your banking details while ordering.

>

Home

>

Lorgeril

>

Château de Pennautier Rosé Classique 2017 Cabardès Lorgeril
Château de Pennautier Rosé Classique 2017 Cabardès Lorgeril
Rosé wine, 75 cl, Languedoc-Roussillon, AOP Cabardès
Château de Pennautier Classique Rosé
Notes de dégustation : Jolie teinte de pétales de rose, brillante et cristalline. Fin, puissant, à base de petits fruits (framboise, pointe cassis) et de réglisse. Bonne attaque en bouche à la fois ronde et vive. Beaucoup de présence avec les caractères de fruits qui reviennent bien, longue persistance.
Le vignoble grimpe sur les flancs des coteaux ensoleillés et rocailleux du sud de la Montagne Noire, de 200 à 300 m d'altitude. Exposées au Sud, les vignes bénéficient de l'alternance Est-Ouest du climat. Les sols sont argilo calcaires à dominante calcaire.
Cépages
: 40% Grenache, 30% Merlot, 20% Syrah, 10% Cabernet
Vinification
: Rosé de saignée. Fermentation des jus assemblés.
Contrôle des températures 14 à 16° C
Accords culinaires
: Tarte aux fraises et autres desserts légers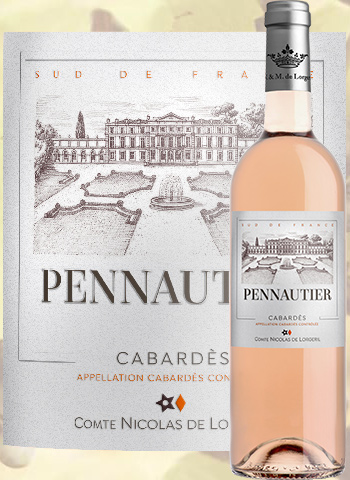 Prices including VAT, excluding delivery and customs duties.
Duties and transport are calculated on the order form.
Prices vary with the delivery country. Prices for delivery in
Thanks you for your visit !
The french wines
Siret : 401 551 858
31800 Villeneuve de Rivière - France
Contact @ : Les vins français


"Les vins français" are placing a supplementary range of wines at the exclusive disposition of retailers and professionals.

Customer Service
Phone : + 33(0) 684 382 629
Fax : + 33 562 003 236