Security
This site has a SSL secure payment system which guarantees the confidentiality of your banking details while ordering.

>

Home

>

Domaine de l'Aigle 2017 Haute Vallée de L'Aude Gérard Bertrand
Domaine de l'Aigle 2017 Haute Vallée de L'Aude Gérard Bertrand
Red wine, 75 cl, Languedoc-Roussillon, IGP Haute Vallée de L'Aude
Haute Vallée de l'Aude
Pinot Noir
Notes de dégustation : Rouge rubis aux légers reflets cuivrés. Dominé par des arômes de fruits frais macérés et de petits fruits à grains (framboise, groseille). Tendre, fruitée et finement épicée. Les tanins, en fin de bouche, sont serrés mais fins et désaltérants.
Le domaine situé autour du village pittoresque de Roquetaillade, au pied des Pyrénées près de Limoux où les Chardonnay et Pinot Noir trouvent des conditions climatiques proches de leur terroir de prédilection.
Le Domaine de l'Aigle est une propriété de 25 hectares magnifiquement située dans la partie la plus septentrionale du vignoble de la Haute Vallée de l'Aude, entre 250 et 500 mètres d'altitude. Nous y réalisons des vins de haut niveau issus de Chardonnay et de Pinot Noir.
Age des vignes
: 15 ans
Cépages
: 100% Pinot Noir
Récolte manuelle
Servir
: idéalement à 12-14°C
Accords culinaires
: Les viandes rouges grillées, les volailles rôties, les poissons grillés ou en sauce, les fromages fins et secs.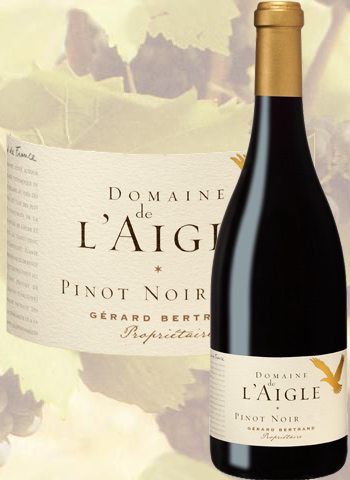 Prices including VAT, excluding delivery and customs duties.
Duties and transport are calculated on the order form.
Prices vary with the delivery country. Prices for delivery in
Thanks you for your visit !
The french wines
Siret : 401 551 858
31800 Villeneuve de Rivière - France
Contact @ : Les vins français


"Les vins français" are placing a supplementary range of wines at the exclusive disposition of retailers and professionals.

Customer Service
Phone : + 33(0) 684 382 629
Fax : + 33 562 003 236