Security
This site has a SSL secure payment system which guarantees the confidentiality of your banking details while ordering.

>

Home

>

Fronton

>

Bellevue La Forêt

>

Optimum 2015 Château Bellevue La Forêt
Optimum 2015 Château Bellevue La Forêt
Red wine, 75 cl, Fronton,
AOC Fronton
Cité au Guide Hachette 2019
Médaille de Bronze : Decanter 2017
Wine Enthusiast : 92/100
Notes de dégustation : De vieilles vignes, un petit rendement, Négrette, Syrah, Cabernet Sauvignon, le tout sur la plus haute terrasse du Tarn à l'ensoleillement généreux. Sa vinification et son élevage jalousement gardés secrets vous permettront de découvrir un vin au nez intense de cassis confit, de poivre noir, de réglisse et à la bouche ample, puissante et à l'arôme de cacao.
Optimum est issu de parcelles de vieilles vignes sélectionnées, sur des sols pauvres et graveleux, contenant du fer et du quartz.
Cépage
: 40 % Syrah,50 % Négrette, 10 % Cabernet Sauvignon.
Élevé en fût de chêne pendant 1 ans.
Garde
: Ce vin de garde (9 à 10 ans) tout à la fois charnu, ample, droit et fin, doté d'une très longue finale, peut être consommé immédiatement.
Accords culinaires
: Steak au poivre, gibier à plumes rôti, magret de canard, Coulommiers, picodon sec ou Cantal.
Servir
: Il est préférable de le mettre en carafe 2 heures avant son service à 18°C.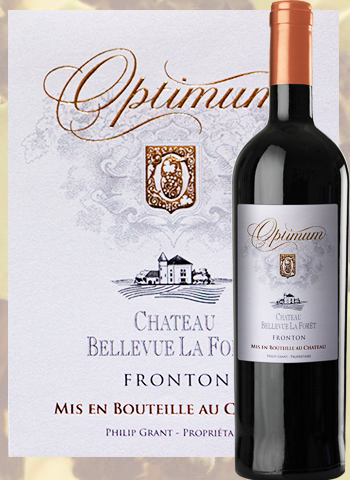 Autres millésimes et formats disponibles :
Red wine, 150 cl, Fronton, AOC Fronton
Prices including VAT, excluding delivery and customs duties.
Duties and transport are calculated on the order form.
Prices vary with the delivery country. Prices for delivery in
Thanks you for your visit !
The french wines
Siret : 401 551 858
31800 Villeneuve de Rivière - France
Contact @ : Les vins français


"Les vins français" are placing a supplementary range of wines at the exclusive disposition of retailers and professionals.

Customer Service
Phone : + 33(0) 562 003 235
Mobile : + 33(0) 684 382 629