Security
This site has a SSL secure payment system which guarantees the confidentiality of your banking details while ordering.

>

Home

>

Gosset

>

Excellence Brut Jéroboam Champagne Gosset
Excellence Brut Jéroboam Champagne Gosset
Champagne, 300 cl, Gosset,
Brut Excellence
Guide Parker : 90
Wine Spectator : 90
Jancis Robinson : 18
Jéroboam (300 cl)
Caisse Bois
Notes de dégustation : Une robe d'un or jaune pâle, lumineux, limpide et cristallin, agitée de milliers de bulles. D'emblée le nez annonce beaucoup d'ouverture, d'expression autour des fruits jaunes à noyau, charnus et mûrs, tels que les abricots, les pêches ou encore les fruits secs (amande). Dès l'attaque, la bouche est charnue, vineuse et puissante. Son évolution est associée à une tension faite de fraîcheur et d'amertume légèrement salée.
Caractéristiques du Champagne
Assemblage
: Une alliance de chardonnay 36%, Pinot noir 45% et Pinot Meunier 19%
Garde
: 3 ans en cave 11°
Température de dégustation
: entre 8° et 10°
Accords
: Un vin de tables simples et conviviales, dans le feu de l'été, rafraîchissant et parfait avec des viandes rouges grillées, sans sauce ni artifice. La finale légèrement amère comme la vinosité du vin entrent en résonance avec une poêlée de petits légumes du jardin, croquants, cuits et assaisonnés façon Passard.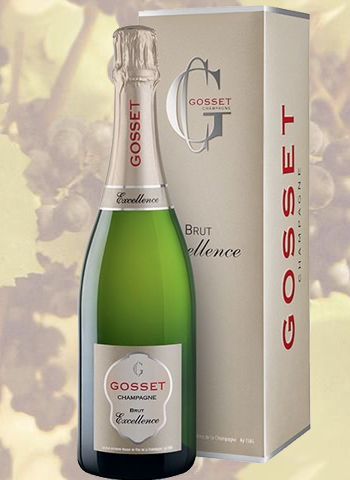 Autres millésimes et formats disponibles :
Champagne, 150 cl, Gosset, Brut Excellence
Champagne, 75 cl, Gosset, Brut Excellence
Prices including VAT, excluding delivery and customs duties.
Duties and transport are calculated on the order form.
Prices vary with the delivery country. Prices for delivery in
Thanks you for your visit !
The french wines
Siret : 401 551 858
31800 Villeneuve de Rivière - France
Contact @ : Les vins français


"Les vins français" are placing a supplementary range of wines at the exclusive disposition of retailers and professionals.

Customer Service
Phone : + 33(0) 562 003 235
Mobile : + 33(0) 684 382 629