Security
This site has a SSL secure payment system which guarantees the confidentiality of your banking details while ordering.

>

Home

>

Chablis

>

La Chablisienne

>

Petit Chablis 2018 La Chablisienne
Petit Chablis 2018 La Chablisienne
White wine, 75 cl, Chablis, AOC Petit Chablis
Notes de dégustation : Robe or pâle, vin limpide et brillant. 1er nez présentant les fruits frais légèrement épicés. À l'aération, la complexité devient plus grande avec une note florale et de fruits murs. Bonne persistance. Bouche pleine avec une très belle texture finement minérale calcaire, maturité fraîche bien présente. Très beau volume frais et élégant. Longueur assez remarquable pour un Petit Chablis.
Petit Chablis "Pas si Petit"
Caractéristiques de l'appellation
L'appellation petit-chablis ne peut être produite que sur neuf communes (Beine, Béru, Chablis, la Chapelle-Vaupelteigne, Lignorelles, Maligny, Pouilly-sur-Serein, Préhy et Villy). Elle s'étend sur la surface respectable de 475 ha. Les petit-chablis sont souvent situés sur les plateaux. Cette appellation constitue la base de la hiérarchie des vins de Chablis. Implantés sur les plateaux, dans un sol argilo-calcaire du Portlandien, les Petits Chablis sont en prime jeunesse des vins vifs, frais avec des arômes de fruits à chair blanche. Deux à trois années après la récolte, ils peuvent se révéler minéraux et finement iodés. Une clé précieuse à la disposition des amateurs pour découvrir l'univers chablisien.
Caractéristiques du vin
Cépage
: 100% Chardonnay
Garde
: 5 ans et plus à partir du millésime
Accords culinaires
: excellent à l'apéritif. Il accompagne à merveille les entrées de poissons et fruits de mer.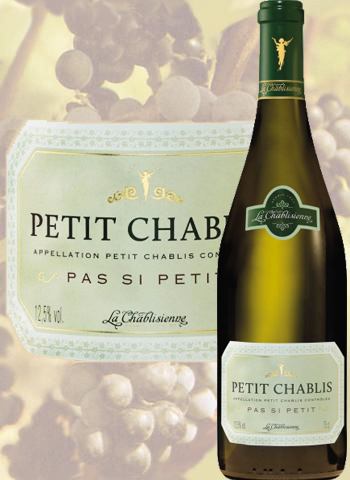 Autres millésimes ou formats :
White wine, 150 cl, Chablis, AOC Petit Chablis
Prices including VAT, excluding delivery and customs duties.
Duties and transport are calculated on the order form.
Prices vary with the delivery country. Prices for delivery in
Thanks you for your visit !
The french wines
Siret : 401 551 858
31800 Villeneuve de Rivière - France
Contact @ : Les vins français


"Les vins français" are placing a supplementary range of wines at the exclusive disposition of retailers and professionals.

Customer Service
Phone : + 33(0) 684 382 629
Fax : + 33 562 003 236