Security
This site has a SSL secure payment system which guarantees the confidentiality of your banking details while ordering.

>

Home

>

Chablis

>

La Chablisienne

>

Chablis 1er Cru Montée de Tonnerre 2017 La Chablisienne
Chablis 1er Cru Montée de Tonnerre 2017 La Chablisienne
White wine, 75 cl, Chablis,
AOC Chablis Premier Cru
Médaille de Bronze : Concours Général Agricole 2019
Bouteille Sommelière
Notes de dégustation : Robe or pâle, vin limpide et brillant. 1er nez, fin et complexe, avec une ample palette, fruits et fleurs blanches, épices douces et minéralité. À l'aération, la minéralité devient plus intense et fraîche. Très persistant. Bouche élégante et dense, les fruits murs reposent sur une remarquable trame minérale "kimméridgienne" profonde et rayonnante. Grande longueur en finale. Grand terroir qui défiera le temps dans ce grand millésime.
Les Domaines La Chablisienne
Caractéristiques du vin
Cépage
: 100% Chardonnay
Garde
: 3 ans et plus à partir du millésime
Conseil
: Grand terroir sur la jeunesse, doit attendre plusieurs années pour une présentation parfaite.
Accords culinaires
: poissons, crustacés, volailles ou viandes blanches.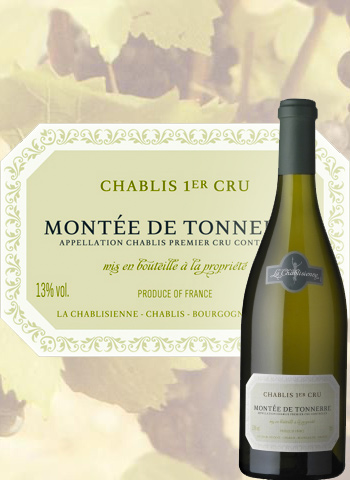 Autres millésimes et formats disponibles :
White wine, 150 cl, Chablis, AOC Chablis Premier Cru
Prices including VAT, excluding delivery and customs duties.
Duties and transport are calculated on the order form.
Prices vary with the delivery country. Prices for delivery in
Thanks you for your visit !
The french wines
Siret : 401 551 858
31800 Villeneuve de Rivière - France
Contact @ : Les vins français


"Les vins français" are placing a supplementary range of wines at the exclusive disposition of retailers and professionals.

Customer Service
Phone : + 33(0) 562 003 235
Mobile : + 33(0) 684 382 629