Security
This site has a SSL secure payment system which guarantees the confidentiality of your banking details while ordering.

>

Home

>

Buzet

>

Baron d'Ardeuil

>

Tradition Blanc 2018 Vignerons de Buzet
Tradition Blanc 2018 Vignerons de Buzet
White wine, 75 cl, Buzet, AOC Buzet
Notes de dégustation : Toujours aussi séduisant et toujours la robe vive. Son aimable parfum de fleurs se double d'un goût très fruité, presque taquin. Le Tradition 2018 est donc pile poil dans la tradition.
Caractéristiques du vin
Autrefois, quand ils allaient faire le dépiquage chez un voisin, les vignerons de Buzet partaient toujours avec une (ou plusieurs !) bouteilles de blanc. De leur vin. Si bon, si célèbre, que François 1er ne pouvait pas manger un poisson ou un crustacé sans lui. Mais comme tout change, la méthode de vinification, au moment tragique du phylloxera peut-être, fut oubliée. Pourtant rien ne se perd. Jamais. Et cette méthode fut retrouvée. Et comme ses cousins le rouge ou le rosé, la recette du blanc Tradition fut redécouverte dans les greniers.
Cépages
: 80% Sémillon, 20% Sauvignon.
Accords culinaires
: tarte à la tomate, Maquereaux marinés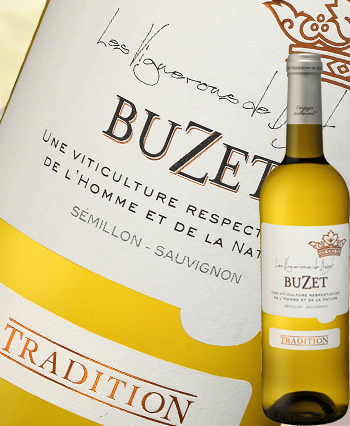 Prices including VAT, excluding delivery and customs duties.
Duties and transport are calculated on the order form.
Prices vary with the delivery country. Prices for delivery in
Thanks you for your visit !
The french wines
Siret : 401 551 858
31800 Villeneuve de Rivière - France
Contact @ : Les vins français


"Les vins français" are placing a supplementary range of wines at the exclusive disposition of retailers and professionals.

Customer Service
Phone : + 33(0) 562 003 235
Mobile : + 33(0) 684 382 629