Security
This site has a SSL secure payment system which guarantees the confidentiality of your banking details while ordering.

>

Home

>

Buzet

>

Baron d'Ardeuil

>

Le Lys Buzet Rouge 2016 Vignerons de Buzet
Le Lys Buzet Rouge 2016 Vignerons de Buzet
Red wine, 75 cl, Buzet, Lys Buzet Etiquette
Notes de dégustation : Sitôt la bouteille débouchée, les arômes de fruits si caractéristiques du Lys rouge 2016, s'en donnent à cœur joie. La bouche est vite sous le charme d'une structure fine et délicate, quelque peu espiègle, mais jamais agressive
Caractéristiques du vin
Rien n'a meilleur nez, l'été, qu'une grillade saisie sur les braises et sur laquelle le cuisinier jette négligemment quelques pincées d'herbes parfumées. Pourtant, la question qui se pose toujours est : que boire avec ce plat si appétissant ? Pour ceux qui n'aiment que le rosé l'été, la réponse est trouvée : Lys Rosé, mais d'autres préfèrent un bon vin rouge susceptible d'être bu à température ou frais. C'est le cas avec Le Lys rouge. Frais, il fait merveille sur n'importe quelle viande grillée (rouge ou blanche) et il embellit tout aussi bien un magret dodu qu'une simple saucisse ou une belle tranche de ventrèche. Et comme le 2015 libère des saveurs de fruits rouges et de cassis, avec lui on est toujours en vacances.
Cépages
: 65% Merlot, 30% Cabernet Franc, 5% Cabernet Sauvignon.
Accords culinaires
: Velouté de potiron, Flamiche, Jambon de Bayonne, Pizza, Croque-monsieur, Croque-madame, Lasagnes, Cannelloni à la romaine, Chili con carne, Fajitas mexicaines, Crêpes bretonnes, Hachis parmentier, Cailles aux raisins, Aiguillettes de canards sauce poivre vert.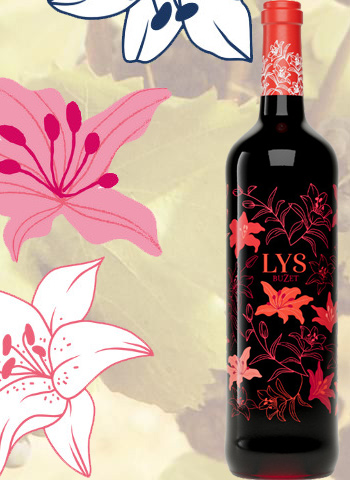 Prices including VAT, excluding delivery and customs duties.
Duties and transport are calculated on the order form.
Prices vary with the delivery country. Prices for delivery in
Thanks you for your visit !
The french wines
Siret : 401 551 858
31800 Villeneuve de Rivière - France
Contact @ : Les vins français


"Les vins français" are placing a supplementary range of wines at the exclusive disposition of retailers and professionals.

Customer Service
Phone : + 33(0) 684 382 629
Fax : + 33 562 003 236