Security
This site has a SSL secure payment system which guarantees the confidentiality of your banking details while ordering.

>

Home

>

Alsace

>

Dopff

>

Pinot Blanc Dopff au Moulin 2017
Pinot Blanc Dopff au Moulin 2017
White wine, 75 cl, Alsace, AOC Alsace, Pinot Blanc
Wine Enthusiast : 87/100
Notes de dégustation : Tendre et délicat, il allie fraîcheur et souplesse pour représenter un juste milieu dans la gamme des vins d'Alsace.
Description
Les vins de tradition de la gamme "étiquette losange" sont vinifiés, élaborés et élevés dans nos chais à partir de raisins fournis par des viticulteurs fidèles et sélectionnés pour le sérieux de leur travail et la qualité de leurs apports.
La diversité des terroirs nous permet, en recherchant des assemblages harmonieux dès l'arrivée au pressoir, d'assurer une qualité équilibrée et constante,millésime après millésime même avec des conditions climatiques extrêmement variées d'une année à l'autre.
Caractéristiques du vin
Les vins issus du millésime 2017, frais et gouleyants, allient une bonne fraîcheur et de belles expressions aromatiques.
Degré alcool
: 12.8 % Vol.
Sucres résiduels
: 1 g/l
Acidité totale
: 3.5 g/l en H2SO4 / 5.25 g/l en A.T.
Cépage
 : Pinot Blanc
Accords culinaires
: avec charcuteries, terrines, tartes flambées, tourtes et même volailles et viandes blanches.
Garde
: à boire jeune dans les 2 à 3 ans.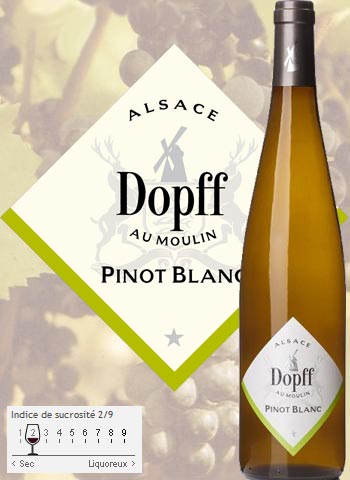 Prices including VAT, excluding delivery and customs duties.
Duties and transport are calculated on the order form.
Prices vary with the delivery country. Prices for delivery in
Thanks you for your visit !
The french wines
Siret : 401 551 858
31800 Villeneuve de Rivière - France
Contact @ : Les vins français


"Les vins français" are placing a supplementary range of wines at the exclusive disposition of retailers and professionals.

Customer Service
Phone : + 33(0) 562 003 235
Mobile : + 33(0) 684 382 629