Security
This site has a SSL secure payment system which guarantees the confidentiality of your banking details while ordering.

>

Home

>

Alsace

>

Dopff

>

Muscat De Riquewihr Dopff au Moulin 2016
Muscat De Riquewihr Dopff au Moulin 2016
White wine, 75 cl, Alsace, AOC Alsace, Muscat
Médaille d'Argent  : Concours des vins d'Alsace de Colmar 2018
Vins distingués par le Sigillé de qualité en 2016
Notes de dégustation : Très frais en bouche, et avec ses belles expressions aromatiques. Sa légère rondeur en fin de bouche le rend flatteur.
Caractéristiques du vignoble
Coteau exposé plein Sud (Schoenenbourg) , altitude environ 300 m, sol marno-gypseux avec sous-sol imperméable composé principalement d'argile. Sol lourd bien pourvu en matières organiques. Excellente résistance à la sécheresse.
Degré alcool
: 12.5 % Vol.
Sucres résiduels
: 4.5 g/l
Acidité totale
: 4.2 g/l en H2SO4 / 6.3 g/l en A.T.
Caractéristiques du vin
Vendange manuelle le 23 septembre 2016. Pressurage raisins entiers et macération longue. Débourbage statique et fermentation longue jusqu'à fin novembre. Conservation sur lies fines jusqu'en janvier 2017 et mise en bouteille le 16 février 2017 .
Accords culinaires
: Feuilleté d'asperges aux morilles, Kougelhopf ou kouglof, Poissons de rivière nature ou avec un léger beurre blanc.
Garde
: à boire jeune dans les 2 à 3 ans.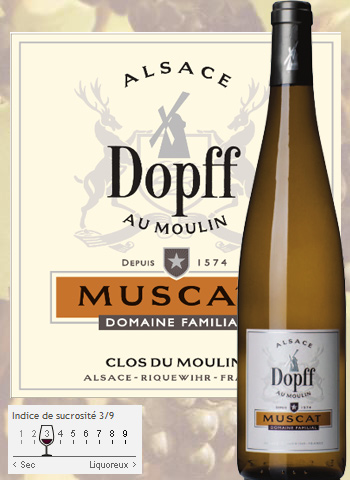 Prices including VAT, excluding delivery and customs duties.
Duties and transport are calculated on the order form.
Prices vary with the delivery country. Prices for delivery in
Thanks you for your visit !
The french wines
Siret : 401 551 858
31800 Villeneuve de Rivière - France
Contact @ : Les vins français


"Les vins français" are placing a supplementary range of wines at the exclusive disposition of retailers and professionals.

Customer Service
Phone : + 33(0) 562 003 235
Mobile : + 33(0) 684 382 629