Security
This site has a SSL secure payment system which guarantees the confidentiality of your banking details while ordering.

>

Home

>

Alsace

>

Dopff

>

Crémant Brut Rosé Dopff au Moulin
Crémant Brut Rosé Dopff au Moulin
Rosé wine, 75 cl, Alsace, AOC Crémant d'Alsace
Médaille d'Argent : Concours National des Crémants 2018
Notes de dégustation : D'un rosé tendre et d'un perlé fin, le Brut Rosé de Dopff est ample, équilibré et fruité. La finale conclut la dégustation dans une belle harmonie. A mettre dans sa cave et à servir à table sur des viandes blanches.
Caractéristiques du crémant
Ce Crémant d'Alsace est la résultante d'une recette spécifique à la maison Dopff "au moulin" pour l'obtention d'un crémant rosé uniquement par macération du cépage pinot noir.
Vinification
: Selon les règles de la méthode traditionnelle :
- Macération de 12 heures au froid puis pressurage
- 1ère fermentation en cuves
- 2ème fermentation en bouteille selon la méthode traditionnelle
- Durée moyenne de stockage s/lattes : environ 14 mois
- Remuage automatique sur gyropalettes
Degré alcool
: 12.2 % Vol.
Sucres résiduels
: 8.1 g/l
Acidité totale
: 4.7 g/l H2SO4 / 7.19 g/l en A.T
Cépage
: Pinot Noir 100%
Accords culinaires
: Sur des viandes blanches, original avec tout un repas.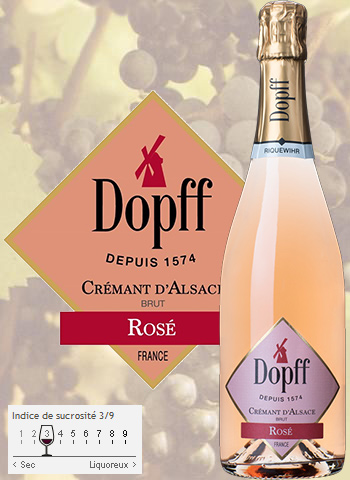 Prices including VAT, excluding delivery and customs duties.
Duties and transport are calculated on the order form.
Prices vary with the delivery country. Prices for delivery in
Thanks you for your visit !
The french wines
Siret : 401 551 858
31800 Villeneuve de Rivière - France
Contact @ : Les vins français


"Les vins français" are placing a supplementary range of wines at the exclusive disposition of retailers and professionals.

Customer Service
Phone : + 33(0) 562 003 235
Mobile : + 33(0) 684 382 629