Security
This site has a SSL secure payment system which guarantees the confidentiality of your banking details while ordering.

>

Home

>

Alsace

>

Dopff

>

Blanc De Noirs Brut Dopff au Moulin 2015
Blanc De Noirs Brut Dopff au Moulin 2015
White wine, 75 cl, Alsace, AOC Crémant d'Alsace, Blanc De Noirs
Notes de dégustation : Vin très ample au nez, il est dominé par des notes fruitées et grillées. L'attaque est puissante, c'est un vin long et structuré, il est de bonne harmonie et pourra assurer tout un repas.
Caractéristiques du crémant
Ce Crémant d'Alsace est obtenu par le pressurage direct des pinots noirs (raisins à pellicule noire, mais jus blanc). Sa qualité est déterminée par l'art de ce pressurage à partir de raisins sélectionnés.
Vinification
: Selon les règles de la méthode traditionnelle, pressurage en raisins entiers avec sélection de la cuvée. Conservation sur latte et dégorgement.
Cépage
: Pinot Noir 100%
Accords culinaires
: A boire nature tant à l'apéritif qu'au dessert, agrémentera par sa classe toutes fêtes et réunion.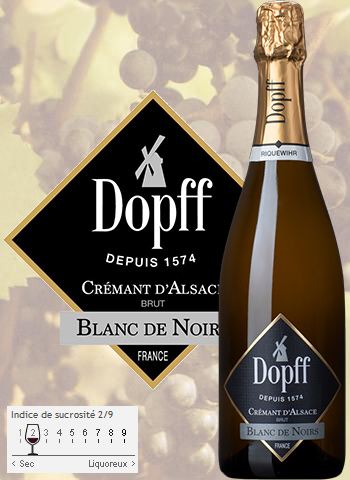 Prices including VAT, excluding delivery and customs duties.
Duties and transport are calculated on the order form.
Prices vary with the delivery country. Prices for delivery in
Thanks you for your visit !
The french wines
Siret : 401 551 858
31800 Villeneuve de Rivière - France
Contact @ : Les vins français


"Les vins français" are placing a supplementary range of wines at the exclusive disposition of retailers and professionals.

Customer Service
Phone : + 33(0) 684 382 629
Fax : + 33 562 003 236